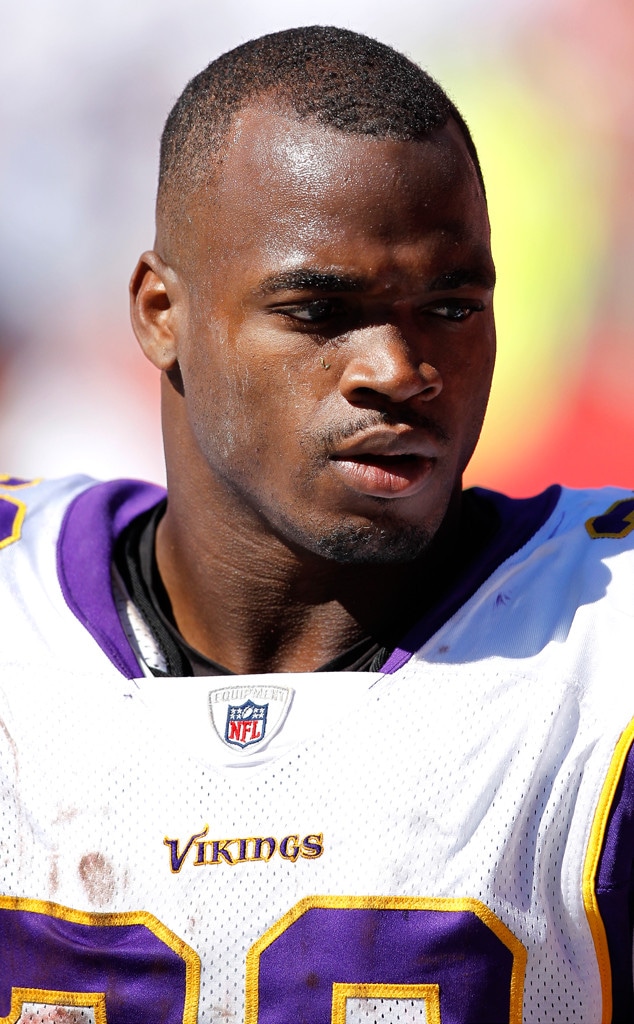 Joe Robbins/Getty Images
Adrian Peterson says he will never use a switch to punish his 4-year-old son again, marking the former Minnesota Vikings' star running back's first major interview about the incident, which got him indicted on charges of child abuse and suspended from the NFL.
The 29-year-old football player and father of six made his comments in an interview with USA Today that was posted on Thursday. Two days earlier, the NFL announced it had suspended Peterson without pay over the matter, which marks of one of two major domestic violence cases involving players from the league that have made headlines this year, while Commissioner Roger Goodell said in a letter to the player, "You have shown no meaningful remorse for your conduct."
"I won't ever use a switch again," he told USA Today. "There's different situations where a child needs to be disciplined as far as timeout, taking their toys away, making them take a nap. There's so many different ways to discipline your kids."
Peterson told the newspaper that he spoke to his son for the first time in five months last week and that he told the boy he loved him.
"He was like, 'I love you, too, Dad. Can I come over to your house?'" the football player said.
"No one knows how I felt when I turned my child around after spanking him and seeing what I had left on his leg," Peterson added. "No one knows that Dad sat there and apologized to him, hugged him and told him that I didn't mean to do this to you and how sorry I was."
In September, Peterson was indicted by a grand jury in Texas on a charge of reckless or negligent injury to a child and later turned himself in to police to be arrested. His lawyer said "the charged conduct involves using a switch to spank his son" and that Peterson had "used the same kind of discipline with his child that he experienced as a child growing up in east Texas" and "never intended to harm his son and deeply regrets the unintentional injury."
On Nov. 4, the football player pleaded no contest to misdemeanor reckless assault, avoiding a potential jail sentence, and was ordered to perform community service and pay a $4,000 fine.
"I love my son. I love my kids, my family," the football player told USA Today. "Like I said after I took the misdemeanor plea, I take full responsibility for my actions. I regret the situation. I love my son more than any one of you could even imagine."
The boy's mother, who has not been identified, has not commented about the case personally. Her attorney told USA Today the woman is "very receptive to Mr. Peterson being in her son's life and has always welcomed his involvement as a parent."
Peterson, a former Most Valuable Player whose annual salary is $11.75 million, has played in one Vikings game this year. After his incident, he was put on the NFL commissioner's exempt list, which had allowed him to collect his paycheck without playing football.
The NFL said in a statement on Tuesday that Peterson was notified "that he has been suspended without pay for at least the remainder of the 2014 NFL season, and will not be considered for reinstatement before April 15, for violating the NFL Personal Conduct Policy in an incident of abusive discipline that he inflicted on his 4-year-old son last May."
The NFL said Goodell wrote in his letter to Peterson that "the timing" of his "potential reinstatement" will be based on the "results of the counseling and treatment program set forth in this decision."
"You have shown no meaningful remorse for your conduct," Goodell said in his letter. "When indicted, you acknowledged what you did but said that you would not 'eliminate whooping my kids' and defended your conduct in numerous published text messages to the child's mother. You also said that you felt 'very confident with my actions because I know my intent.' These comments raise the serious concern that you do not fully appreciate the seriousness of your conduct, or even worse, that you may feel free to engage in similar conduct in the future."
The NFL players' union has appealed the suspension, calling it "unprecedented, arbitrary and unlawful," ESPN reported, adding that the group wants an independent, neutral arbitrator to hear the case.
An neutral arbitrator is currently presiding over an appeal filed by former Baltimore Ravens running back Ray Rice over his own suspension from the NFL for a domestic violence case, which followed the posting of a surveillance video that shows him punching his then-fiancée and now wife, Janay Palmer, in an elevator and knocking her unconscious. He had faced assault charges over the incident, which took place in March. Palmer declined to testify against him and the charges were dropped.