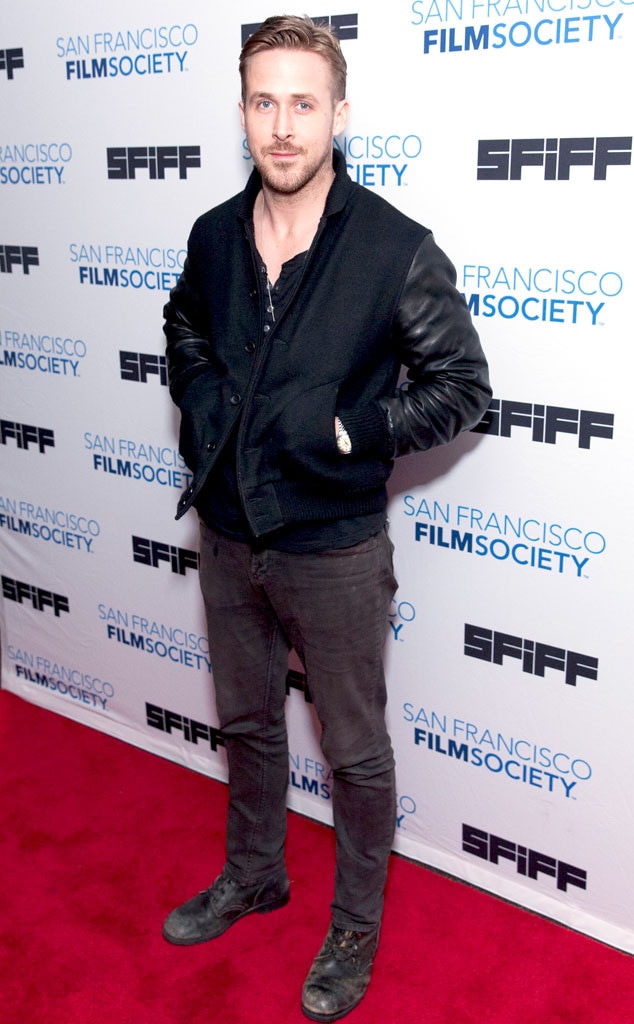 Drew Altizer/Sipa USA
Hey girl, Ryan Gosling needs some space.
And on Thursday, the actor was granted just that in the form of a temporary restraining order against alleged stalker Grace Marie Del Villar. According to court documents obtained by E! News, Gosling says the 34-year-old woman has been stalking him as well as his family members with the belief that she is his "twin flame" or "twin soul...[which means] literally the other half of our soul."
Gosling claims Del Villar, who is listed as living in New York City, has "harassed and stalked and sought to have personal contact with" himself, his mother Donna Gosling and his sister Mandi Gosling. Because of this, he requested the TRO against Del Villar for his mom and sister as well as "romantic partner" Eva Mendes and daughter Esmerelda Gosling.
According to court docs, Del Villar's repeated attempts to contact the Goslings culminated on Oct. 29, 2014, when she "travel(ed) cross-country from New York to Los Angeles, track(ed) down and show(ed) up uninvited late at night" at "a Gosling family-member residence and demand(ed) entry and access to the Goslings."
Del Villar is "delusional," the actor claims, and "believes she knows the Gosling family, and that they know her, and that they are actually searching for her and have been for the past three-years." According to court docs, she repeatedly says "Ryan has been looking for me" and asks for him to get in touch with her. In addition to contacting the actor's mother and sister, Del Villar has contacted Gosling's manager, Carolyn Govers, director Derek Cianfrance (who worked with Gosling on two films since 2010), and Cianfrance's wife, Shannon Plumb.
Del Villar has allegedly contacted Gosling's family and associates multiple times via email as well as physical mail. In one disturbing message to Gosling's sister, his lawyers claim Del Villar said, "FYI…I am kicking your brother's ass and his head for his darkness..." According to the docs, she also sent "a church pamphlet with [her] hand-written notes on it" to his sister, a "page torn from a magazine which featured Eva Mendes" to his manager, and "oddly, a doll catalog" to a Gosling-family residence—each with her contact information attached.
Pascal Le Segretain/Getty Images
Gosling's security provider has "expressly informed" Del Villar that the actor and his family "do not personally know nor have any relationship with her," the docs state, "and that communications were inappropriate and unwanted, and that she should not attempt to communicate any further with them."
Gosling is "seriously alarmed" by Del Villar's alleged actions, he says, and "has real and reasonable fears for his and his families' safety, and that of those around them." He has requested a three-year restraining order prohibiting Del Villar from coming within 100 yards of him and his family.
A temporary restraining order mandating Del Villar keep this distance from Gosling and co. is in effect; a court hearing is scheduled for Dec. 10 where a judge can decide if the order will continue.
—Reporting by Claudia Rosenbaum