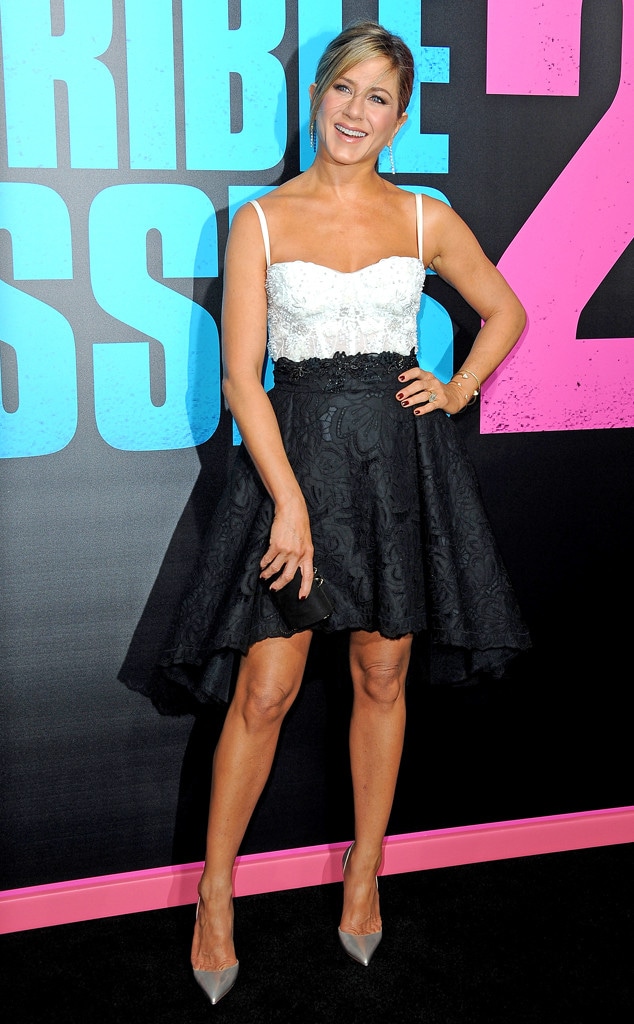 Valerie Macon/Getty Images
There's no question that Jennifer Aniston looked absolutely stunning at the Los Angeles premiere of her upcoming film Horrible Bosses 2, but it wasn't long ago that the actress took a lengthy break from her intense workout routine.
The 45-year-old beauty, who is famous for her fit and trim figure, recently revealed that she "just didn't work out for two-and-a-half months" in order to prepare for her role in the forthcoming film Cake.
So, how did she get her insane body back in shape after kicking her fitness routine to the curb? 
"It's not so easy coming back, let me tell ya!" she dished to E! News at the Horrible Bosses 2 premiere last night. "We've got a ways go, but it puts you in a different state of mind not to be physical and not take care of yourself."
Aniston underwent a complete make-under to play Claire Simmons, a woman who develops a relationship with a widower in her chronic pain support group after becoming fascinated with his wife's suicide.
The former Friends star is already garnering Oscar buzz for her role (she didn't even wear make-up on screen!) and when congratulated on the Academy Award whispers, Aniston humbly expressed her gratitude.
"Oh, thank you, thank you so much," she gushed, clearly proud of her work in the movie.
No surprise, the actress, who looked gorgeous in a beaded monochromatic Zuhair Murad gown, already appears to have her body back in tiptop shape, and despite previously admitting that she "loved every second" of the complex role, she was ready to return to her comfort zone. 
"I had to go to a job the day after I wrapped for my hair company and I just sort of had to snap back into businesswoman mode..." she said when asked how she got her body back. "I was actually ready to let her go, honestly, and felt quite satisfied at the end."
In addition to spilling on Cake, Aniston also dished on Horrible Bosses 2, the follow-up film to the 2011 comedy, which also stars Charlie Day, Jason Bateman, Jason Sudeikis and Chris Pine. Her pal Courteney Cox also attended the premiere to support her BFF, and Jen couldn't help but share how much she loved coming back for the sequel. 
"I couldn't wait to come back..." she said of reuniting with her castmembers and reprising her role as Dr. Julia Harris, a sex addicted dentist. "I loved the first one so much. It's a raunchy little girl to get and come back and play. We all sat in a circle and tabled a bunch of ideas, like how to make it as good, if not better."
"It was just fun," she continued before adding, "It's a great collaborative effort. We all love each other and we all know each other, and with those three guys [Day, Bateman and Sudeikis], it's like comedy magic."
Horrible Bosses 2 hits theaters on Nov. 26.