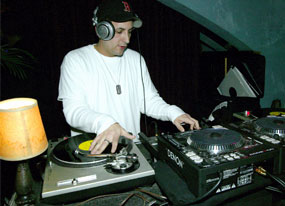 Johnny Nunez/WireImage.com
How am I awake right now? How am I out right now, after the Oscar day I had? What happened to my plan of taping Daily 10, sneaking out of the office early and watching the Knicks game? (They beat the Heat in a thriller at the Garden.)
I'm posted up at Clafoutis, a restaurant on Sunset, waiting for the one, the only Clinton Sparks. This guy might be the best deejay in the world. He's going on D10 tomorrow to review some new music releases and help us switch gears from all the Oscar/Anna Nicole/bald-crazy-pop-star madness. The dude has spun from Boston to Bangkok, got his own show on Eminem's Shade 45 channel, toured with Diddy, you name it.
Clinton's from the music business, so naturally he's late. I struck up a conversation with a few people about the Oscars, and everyone seems happy with the show. I had a few beefs, but that's just a personal thing I probably should figure out in therapy. Here are a few things I loved about it, though, and this is the last about Oscars you hear outta me this year, promise.
Old Talent, Meet the New Talent:  From Peter O'Toole to Judi Dench to Martin Scorsese, there were a lot of legends hanging out. But first-time nominees Ryan Gosling, Rinko, Abigail and Marky Mark all made the awards feel like a rising-stars special you might see on E!.
United Nations of Hollywood:  With Mexican filmmakers nearly owning the night, Forest Whitaker and Jennifer Hudson stealing the show and an openly gay host killing with comedy, these awards did diversity right. Well done.
Will Ferrell, Jack Black and John C. Reilly:  That s--t was funny.
E!'s Baileys Lounge Postshow Party:  Car service to the Oscars: $50. Tie from Alexander Olch: $240. Clif Bar for lunch: $3. Getting paid to drink smooth, creamy Baileys Irish Cream and hand out prizes? Priceless!
Okay, Mr. Get Familiar just entered the building. Check him out online, listen to him on SmashTime Radio, and watch him fo' sho on Daily 10 today. Anyone asks, I'm having the Tuscan grilled chicken with steamed veggies.