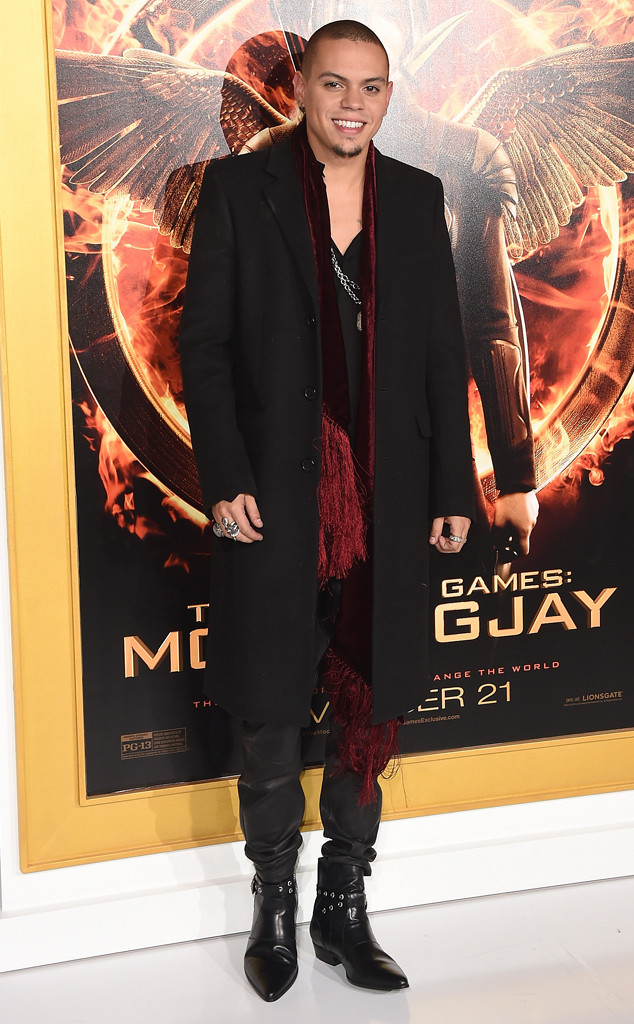 Jason Merritt/Getty Images
Evan Ross may have a new movie coming out on Friday (we're talking about The Hunger Games: Mockingjay, Part 1), but he's also ready to rock.
"I have a single dropping December 5 [called] 'How to Live Alone,'" he told me earlier this week at the Mockingjay premiere. "It's not about living alone. It's about not wanting to live alone."
And he certainly doesn't live alone anymore. He and Ashlee Simpson married in August.
They're already planning on kids. "We're working on it," Ross said. "I would like it. As many as possible!"
Alexandra Wyman/Invision for Lionsgate/AP Images
Ross plays Missella, a member of the film crew shooting promos for Katniss and the rebel war effort, in both Mockingjay movies. "I got married, I have new music and I'm part of Hunger Games," Ross said. "It's been a great year."
E! News was the first to report that Ross and Simpson married in a private ceremony officiated by his music legend mom Diana Ross at her home in the Greenwich, Conn.
They first went public with their romance in July 2013. Ross popped the question with a Neil Lane ring while they were vacationing in Hawaii in January.
"Honestly, we could go and get married right now, wherever," he told me in March at SXSW in Austin, a few weeks before their engagement party. "We just want to be married. We're in love. This is the most incredible time I could ever think of in my life and I'm young, but the same time, I've lived a different life than most and I can't think of a happier moment."
The couple also revealed to E! News at the premiere that they'll be with Ross' mom and Simpson's parents for Thanksgiving. "We'll do a back and forth kind of thing," Ross said.
Simpson said she's going to try to do some cooking during the holidays. "I do green bean casserole," she said, adding, "I can do all the casseroles. I'm from Texas."
Check out more of Evan Ross when he's in studio on E! News tomorrow night at 7 p.m. and 11 p.m.