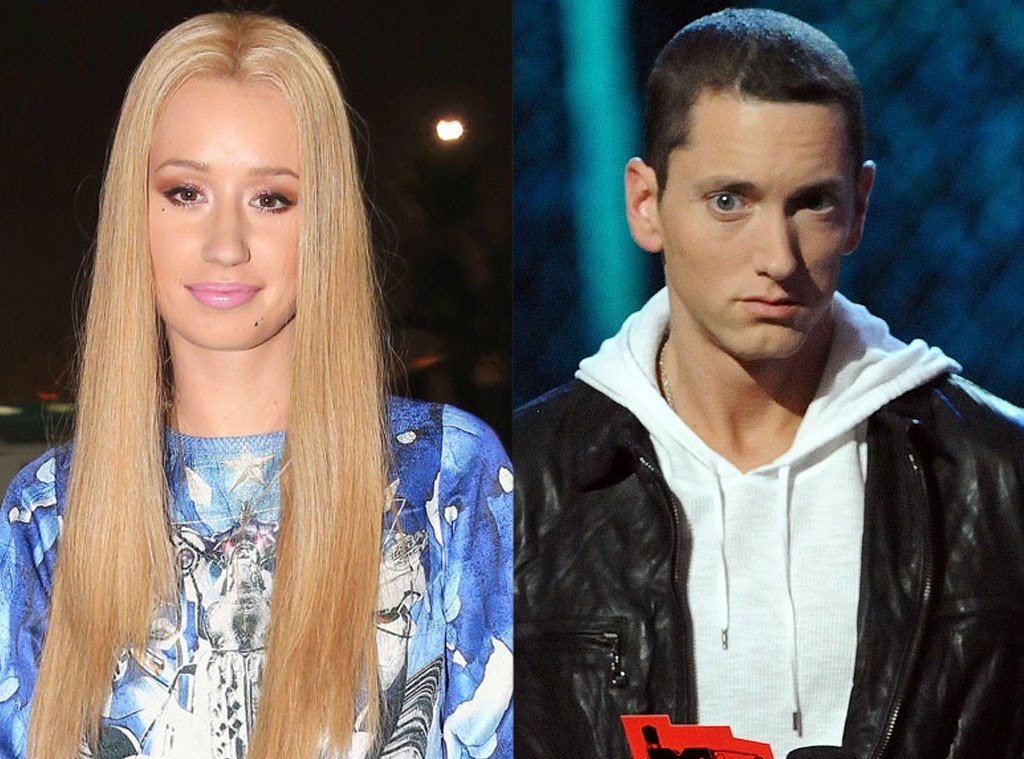 Getty Images
Does someone need to call T.I.?! 
Just more than a week after Eminem made headlines for his music video "Shady Cxvpher," in which he raps about punching Lana Del Rey in the face "like Ray Rice," the 42-year-old musician seems to have found a new target—and it's none other than Iggy Azalea. 
In a leaked snippet from a new track, which is reportedly title "Vegas"  and will be featured on his forthcoming album SHADYXV, the controversial recording artist throws major shade at the "Black Widow" beauty and even threatens rape (the tune is attributed to Bad Meets Evil, a group comprised of Eminem and Royce Da 5'9"). 
"Back to basic / Unless you're Nicki, grab you by the wrist / Let's ski, so what's it gon' be? / Put that s--t away, Iggy," Eminem raps, seemingly praising Nicki Minaj and her curvy bod while slamming Iggy's enviable booty (the video below may have language that's offensive to some). 
And unfortunately, that's not all, as he then follows up with this disturbing line: "You don't wanna blow that rape whistle on me."  
Yeah, that happened. 
Of course, controversial lyrics are nothing new for the hip hop star, and he's clearly unafraid to take aim at today's top musicians. "I poke fun at other people, myself," he previously told Rolling Stone magazine of his music. 
While Azalea has yet to respond to Eminem's song, this isn't the first rap beef in which she's been embroiled as of late (and not necessarily by her choosing). 
Dimitrios Kambouris/Jason Merritt/Getty Images
Last month, Snoop Dogg shared a bevy of cruel Instagram posts and tweets slamming Iggy's appearance while even calling the Aussie star a "f--king c--t." 
And after some harsh back and forth, the two ended their feud thanks to T.I., who mentored Azalea and seemingly had a little chat with Snoop. 
But while Snoop, ultimately, issued an apology, it's safe to say we shouldn't expect the same from Slim Shady. 
"Look, I've been doing this s--t for, what, 14 years now?" he told Rolling Stone. "And I think people know my personal stance on things and the personas that I create in my music. And if someone doesn't understand that by now, I don't think there's anything I can do to change their mind about it."
Thoughts on Eminem's latest controversy? Hit the comments.