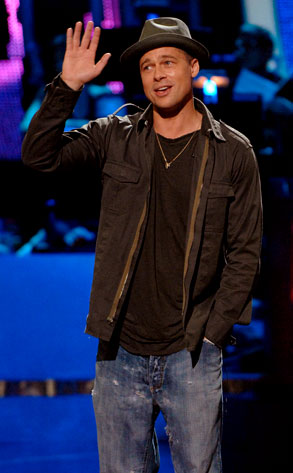 Ray Mickshaw / FOX
Simon gets roasted (but dishes it back) while Brad gets groped (but for good reason)—I was at the Idol Gives Back taping last night at Hollywood's Kodak Theatre, and it did not disappoint.
Here are my 10 reasons—as if Pitt's appearance wasn't enough—why you should watch the annual fundraising shebang when it broadcasts live on Wednesday night:
1. The show opens with the remaining Idol contestants singing Rihanna's summer pop anthem "Don't Stop the Music."
2. Fergie! First she sings a ballad with John Legend on piano, and then she joins Heart for a rockin' rendition of "Barracuda." The Duchess even did cartwheels in her body-hugging black leather pants.
3. Jimmy Kimmel throws some nasty barbs at Simon Cowell. Among the goodies, Kimmel asks that if we all agree that Cowell just says what we're all thinking, then "why hasn't he said anything about the fact that his nipples are the size of pepper mills?" Cowell shot back later on, "Jimmy Kimmel—I just want to say I love the Jay Leno show."
4. There are video addresses from all three presidential candidates—Hillary Clinton, John McCain and Barack Obama. Sen. Obama received the biggest applause from the audience of 3,000. FYI: Producers have asked McCain for a redo before Wednesday's telecast, because the video his peeps submitted was really stinky quality.