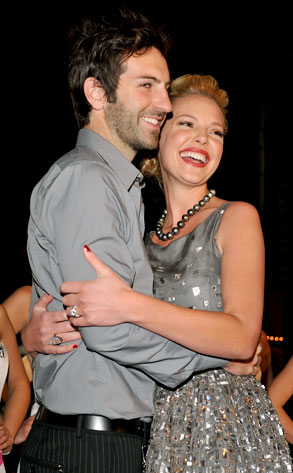 Lester Cohen/WireImage.com
Katherine Heigl could be getting pregnant right now!
OK, maybe not this very second, but her singer hubby Josh Kelley is shooting down reports that he and the missus aren't in sync when it comes to family planning.
The 29-year-old Grey's Anatomy starlet was quoted by a British tabloid earlier this week saying that Kelley, 28, would prefer to "wait a little" before having kids, even though she's ready 'n' willing.
"We both want to have kids, but we never talk about when, because we don't know when," Kelley said at last night's Awearness Fund benefit at the Kenneth Cole store in L.A.'s Beverly Center.
"I definitely want to have kids, and I know she definitely does too, but it's just one of those things we're just going to let happen," said the rocker. "And we're not going to force it. It's just going to happen, like my parents let it happen and her parents let it happen and like everybody lets it happen."