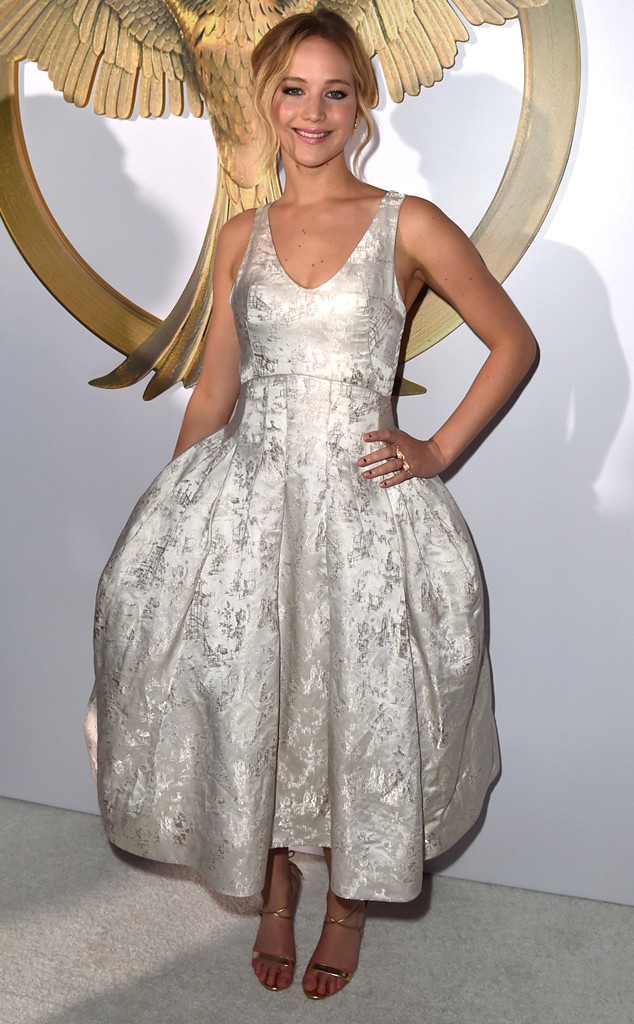 Kevin Winter/Getty Images
Jennifer Lawrence has an Oscar and two Golden Globes.
She's not only part of the X-Men family, but Guinness World Records recently named the 24-year-old actress the highest-grossing action heroine of all time for her work as Katniss Everdeen in the Hunger Games franchise.
And now we're thinking the Church of Jennifer Lawrence may be next. Or perhaps she can star in a reboot of Oh, God!?
"When I worked with her, I realized the child was a genius," Donald Sutherland, who plays President Snow in the Hunger Games movies, told me last night at the premiere of The Hunger Games: Mockingjay, Part 1 (in theaters on Nov. 21). "She's the right person at the right time in the sense of Joan of Arc or Jesus Christ, any genius, in that sense.
Eric Charbonneau/Invision for Lionsgate/AP Images
"She has the ability as an actor to tell the truth out of the material and that truth is immediately recognizable with everybody because it hits you in your heart, your solar plexus and your mind," the legendary actor continued. "And she has the genius of person to be not affected by all of this. She's just a real girl."
Julianne Moore, who makes her franchise debut in Mockingjay as District 13's President Coin, gushed about their leading lady, "She's delightful. My first impression is she's really incredibly witty. I love her as an actress.
"I think even more she's a wonderful human being," Moore continued. "She's kind and generous and funny and great to be with."
Watch:
Julianne Moore Shares First Impression of J.Law
And the love keeps on coming.
Willow Shields, 14, plays Katniss' sister Prim.
"She's so normal and so fun and she's been like a sister to me through all this," Willow said of Lawrence. "She's a good sister to have. She's been nothing but wonderful."
Willow also said Lawrence has become like a "mentor to me."
Watch:
Jennifer Lawrence Is "Like a Sister" to Willow Shields