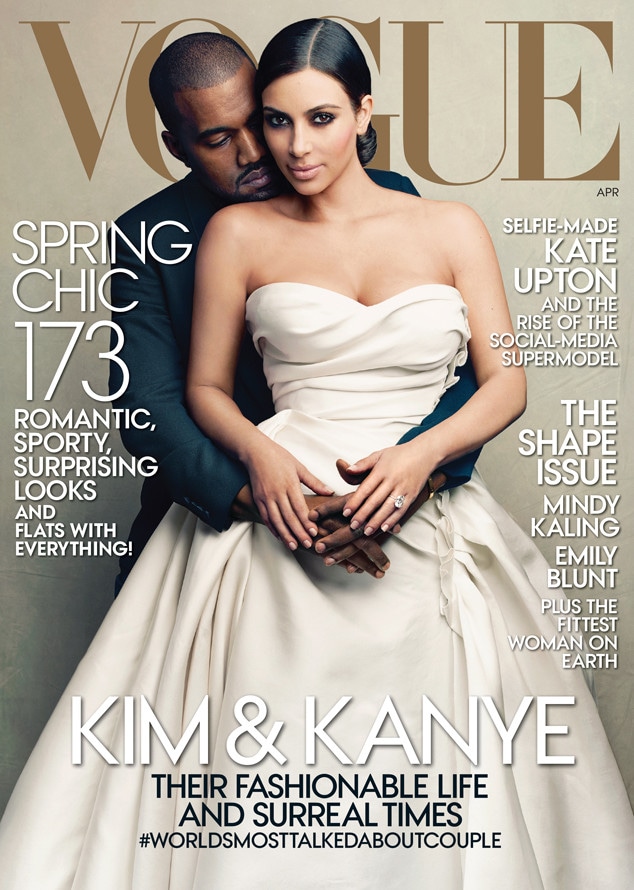 Photographed by Annie Leibovitz
Anna Wintour knew darn well that putting Kim Kardashian and Kanye West on Vogue's April 2014 cover would be controversial.
That's the whole point!
"I see the role of Vogue to reflect what's going on in the culture," the magazine's editor in chief told Fashionista last night when asked about the decision to feature the then-betrothed couple in wedding garb so prominently. "The first celebrity that I put on the cover of Vogue was Madonna, and that was considered completely controversial at the time, too. It's such a long time ago probably no one remembers, but she was a very controversial figure. Now she's part of the establishment."
(To jog some memories, a very brunette Madonna Ciccone graced Vogue's cover in 1989, ahead of the eponymous hit tune.)
Wintour continued, "I think if we just remain deeply tasteful and just put deeply tasteful people on the cover, it would be a rather boring magazine! Nobody would talk about us. It's very important that people do talk about us."
Vogue creative director Grace Coddington spoke out at the time about taking the reins on the Kimye cover idea, telling the Financial Times, "There was a wedding story to be done,. And Anna probably had them in mind, because she had been seeing a lot of Kanye, so she said, 'Maybe we should shoot it on lookalikes.' And I thought, 'Why not just do it on the real thing? This is Vogue."
Wintour, who has been editor-in-chief since 1988, also praised Estée Lauder for bringing Kendall Jenner aboard as a new face of the historic cosmetics company.
"What a fantastic decision that was!" she told Fashionista. "They have a wonderful brand that's very traditionally American, and they decided they want to shake it up and reach a different audience. Now and again one has to do things like that. I think it's part of the excitement and part of being a journalist. I hope another Kim Kardashian comes along this year!"
Alas, there was no forthcoming exchange about Kim's latest magazine cover, her butt-naked, full-frontal shoot for Paper magazine, which she did gratis.
"I was so honored and excited to work with [photographer Jean-Paule Goude] because he is a legend, and for me that was something I wanted to do to make myself feel confident," Kim told Australian TV show The Project yesterday. "As a role model I'm not saying anyone else should do that, but for me it was an art project and it taught me to do what you want to do. I'm never one to preach, but I felt really positive and really good about myself. I love the photos, I did it for me. I hope other people like them."
Or as sister Khloé Kardashian told E! News last week, "If you've got it, flaunt it."
Don't miss a new episode of Kourtney & Khloe Take the Hamptons this Sunday at 9 p.m. on E!