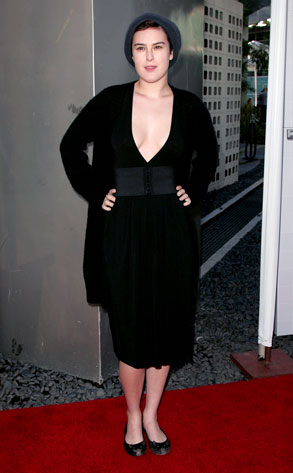 Lisa O'Connor/ZUMA Press
Add Rumer Willis to the list of wannabe singers in Hollywood.
The 19-year-old celebrity offspring surprised the crowd at Teddy's at the Hollywood Roosevelt Hotel on Thursday night by jumping on stage to perform with the band. Ms. Willis, I'm told, did a not-so-impressive cover of Missy Elliott's "The Rain."
"I mean, it wasn't that she was that off-tune or horrible, but she just wasn't that good," one clubgoer opines. "The crowd was not feeling it."
No matter—a posse of her pals applauded and cheered her on. And it's no surprise she was given the spot on the night's bill. Stepdad Ashton Kutcher's That 70's Show costar, Danny Masterson, hosts the weekly Thursday night soiree.
Willis has said she'd like to release an album someday. "I have been singing since I was really little," she told People magazine in August.
No word if daddy Bruce Willis has been giving her some pointers. He has his own band, the Accelerators, which he's been fronting for many years—even performing for the troops in Iraq.
—Additional reporting by Laura Lane