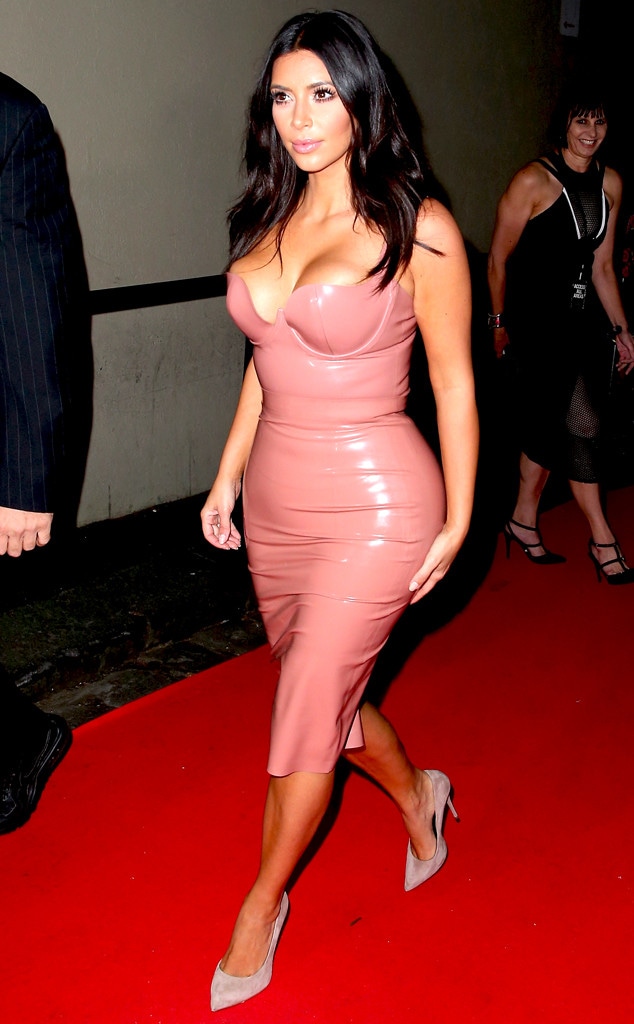 Scott Barbour/Getty Images
Kim Kardashian's cups almost runneth over, but that bustier latex top did God's work, preventing spillage or a nip slip of any kind!
The 34-year-old Keeping Up With the Kardashians star showcased her famous assets in a racy two-piece Atsuko Kudo ensemble Tuesday at the launch of her new Fleur Fatale fragrance at the Spice Market in Melbourne, Australia.
Curious as to how such an unforgiving frock managed to contain Kim's killer curves?! Well, what appears to be a dress is actually a bra top and a pencil skirt.
"Latex fits so much to the body that to the naked eye it's very difficult to tell if it's a top and a skirt, or a dress," Atsuko Kudo's managing director Simon Hoare explained to the Daily Mail.
Every little thing shows when you're wearing latex, but Kim doesn't seem to have any underwear lines. Does that mean she went commando? The brand director admitted, "It's probably better without if you can manage it—but I'd have to leave that up to the lady in question."
It gets pretty hot Down Under, so nobody could blame her if she did skip the skivvies! Besides, Kim already bared her booty (and beyond) for Paper magazine's 2014 winter issue.
Although her butt didn't really #BreakTheInternet, it certainly did get people talking—and not everyone had nice things to say. Kim, however, wasn't bothered by the negativity surrounding the shoot.
"I was so honored and excited to work with [photographer Jean-Paule Goude] because he is a legend, and for me that was something I wanted to do to make myself feel confident," she told Australian TV show The Project. "As a role model I'm not saying anyone else should do that, but for me it was an art project and it taught me to do what you want to do."
"I'm never one to preach, but I felt really positive and really good about myself," she added. "I love the photos, I did it for me. I hope other people like them."
For more Kardashians, watch Kourtney & Khloé Take the Hamptons Sunday nights at 9 p.m. only on E!