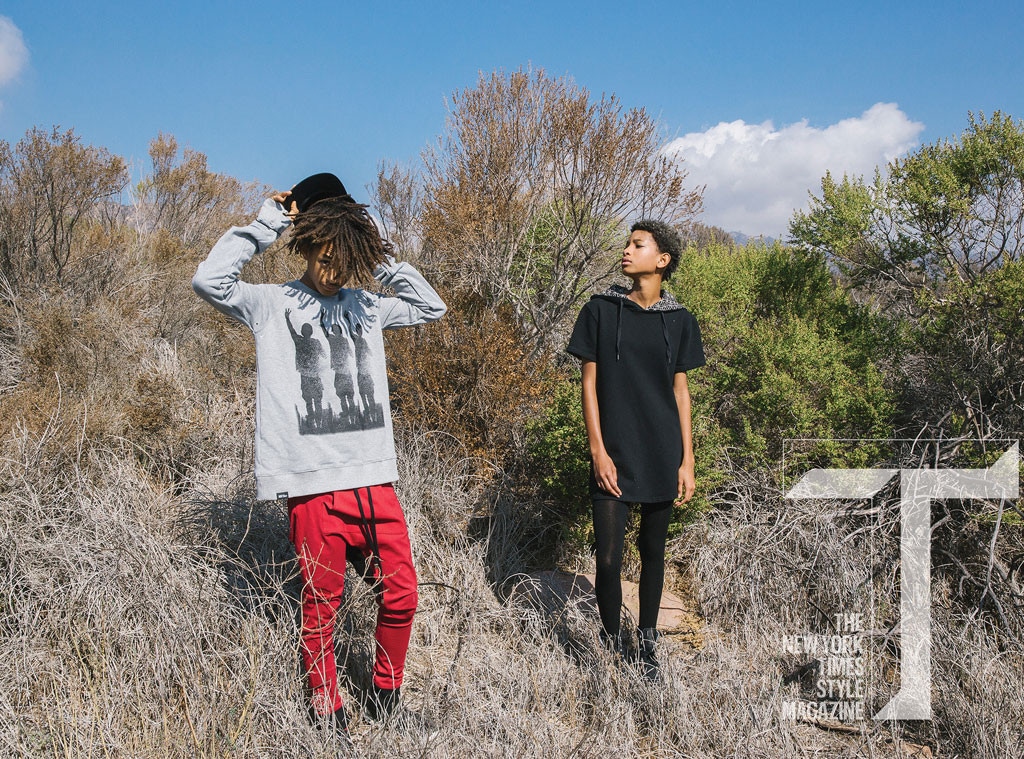 Nathaniel Wood/T Magazine
Whoa.
It's official—Jaden, 16, and Willow Smith, 14, are not your average teenagers, but you probably already knew that (especially with Will Smith and Jada Pinkett Smith's out-of-the-box parenting techniques).
Regardless, you'll probably still find yourself taken aback by their interesting and eyebrow-raising joint interview with T Magazine, where they talk about their interest in quantum physics and ancient texts, as well as discuss their thoughts on time, energy, higher consciousness and the universe, among many other things. It's about to get real philosophical up in here.
Their interview will either blow your mind, make you question everything you thought you knew about life or have you reaching for some aspirin. Maybe all three.
Just try to keep up. But also be aware of the moment. And breathe. Because living.
Nathaniel Wood/T Magazine
When asked about their experience of time, Willow responded, "I mean, time for me, I can make it go slow or fast, however I please, and that's how I know it doesn't exist."
Her brother continued, "It's proven that how time moves for you depends on where you are in the universe. It's relative to beings and other places. But on the level of being here on earth, if you are aware in a moment, one second can last a year. And if you are unaware, your whole childhood, your whole life can pass by in six seconds. But it's also such a thing that you can get lost in."
"Because living," Willow added.
Jaden stated, "Right, because you have to live. There's a theoretical physicist inside all of our minds, and you can talk and talk, but it's living."
Nathaniel Wood/T Magazine
Do you get it now? No? Yeah, it's OK.
Another interesting bit from their interview was the revelation that they're literally too cool for school. No, seriously, Willow said school made her depressed. And Jaden also admitted that he's not doing Driver's Education because people still get into accidents, so it's clearly not working.
"Yes, basically, but the crazy thing is it doesn't have to be like that," the 14-year-old singer responded when asked if the hardest education is the unlearning of things.
"Here's the deal: School is not authentic because it ends. It's not true, it's not real. Our learning will never end. The school that we go to every single morning, we will continue to go to," Jaden said. Willow added, "Forever, 'til the day that we're in out bed."
Jaden continued, "Kids who go to normal school are so teenagery, so angsty...You never learn anything in school. Think about how many car accidents happen every day. Driver's ed? What's up? I still haven't been to driver's ed because if everybody I know has been in an accident, I can't see how driver's ed is really helping them out."
And Willow tried the whole school thing, but it wasn't for her. "I went to school for one year. It was the best experience but the worst experience. The best experience because I was, like, "Oh, now I know why kids are so depressed." But it was the worst experience because I was depressed."
Dimitrios Kambouris/WireImage
Jaden and Willow also touch on their creative process when it comes to making new music, Prana energy and making an impact.
"I have a goal to be just the most craziest person of all time. And when I say craziest, I mean, like, I want to do like Olympic-level things. I want to be the most durable person on the planet," Jaden explained.
His sister noted, "I think by the time we're 30 or 20, we're going to be climbing as many mountains as we can possibly climb."