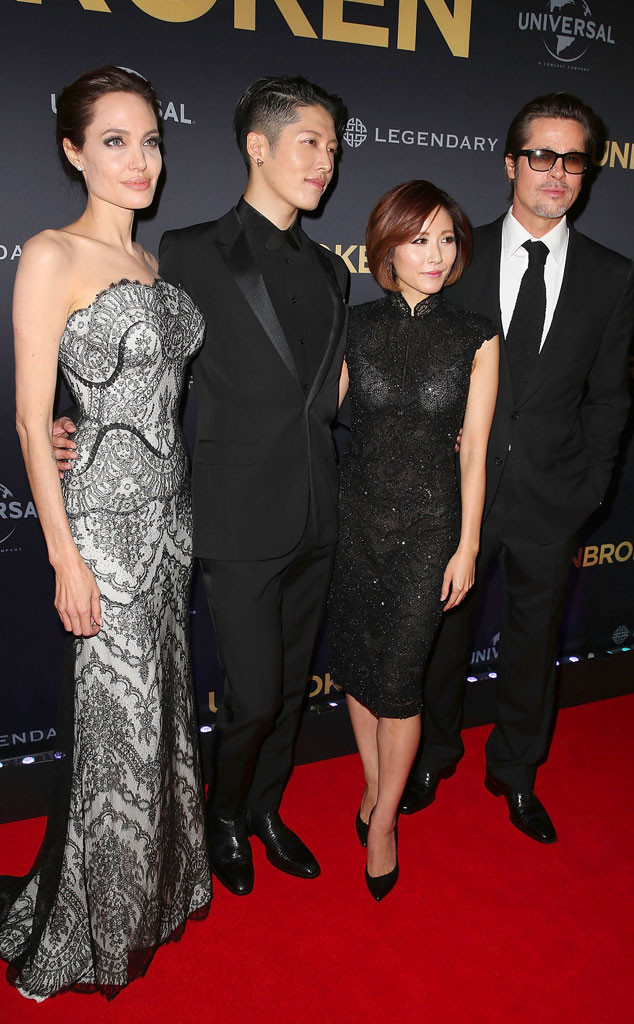 Angelina Jolie and Brad Pitt made their red carpet debut as newlyweds Monday.
The director, 39, and the actor, 50, attended the world premiere of Jolie's Unbroken at the State Theatre in Sydney, Australia. The Oscar-winning actress modeled a strapless, floor-length, black lace Gucci gown. The couple spent 30 minutes outside the theatre, taking selfies with fans and posing for photographers.
Once inside, they posed with Unbroken's Jack O'Connell, plus Melody Ishihara and Miyavi Ishihara.
Jolie also shared a tender moment with Krystal Barter, founder of Pink Hope Charity. Barter had been dubbed "Australia's Angelina Jolie" because she, like the actress, had opted to undergo a preventative double mastectomy after learning she carried the same faulty BRCA1 gene. "Angelina wanted to meet our founder Krystal at the #unbrokenpremiere and what a moment it turned out to be," Pink Hope Charity captioned on Instagram. "So proud of all Pink Hope stands for and our amazing community."
Unbroken tells the true story of Louis Zamperini, an Olympic track star and WWII veteran who was interred in a Japanese prisoner of war camp after surviving 47 days adrift in the Pacific Ocean on a raft. Jolie's inspirational drama was adapted from Laura Hillenbrand's best-selling book of the same name.
Sadly, Zamperini died at age 97 on July 2 following a 40-day fight with pneumonia.
"It is a loss impossible to describe," Jolie told NBC News at the time. "We are all so grateful for how enriched our lives are for having known him. We will miss him terribly."
At Friday's Hollywood Film Awards, Jolie explained why she cast O'Connell as Zamperini. "The auditions were very intense and none more so than the cell," the filmmaker said. "In the cell, the actors would be confined, not knowing if he would be there for three minutes or an hour. A crew member with a rubber baton would go in at unexpected times and hit the actor. It didn't hurt, but the feeling would bring up the emotion of the loss of freedom, the control, the never knowing, the sense of powerlessness."
"All of the actors were so brave and many of the auditions were emotional and heartbreaking, and then came Jack. He went in the cell. He sat in the dark. He didn't force anything. He didn't act. He was just present. He looked around the darkness, he felt the isolation, and he looked so young and vulnerable, and when he was hit, he took the beating, he ended up shaking from the feelings and he allowed his emotions to come forward," the director said of her film's leading man, 24. "The second time he begged the guard to stop with tears in his eyes. And the third time, something happened. His eyes changed and he went against the script. And when the guard came in, he fought back. He just couldn't stay down."
"I showed that audition tape to Louis, and he smiled. As a director, to have Jack in front of your lens is a gift. He draws you in, he makes every moment honest," Jolie said. "In his work, he gives all that he has."
Unbroken will be released in the U.S. on Dec. 25.
(E! and Universal Pictures are both part of the NBCUniversal family.)