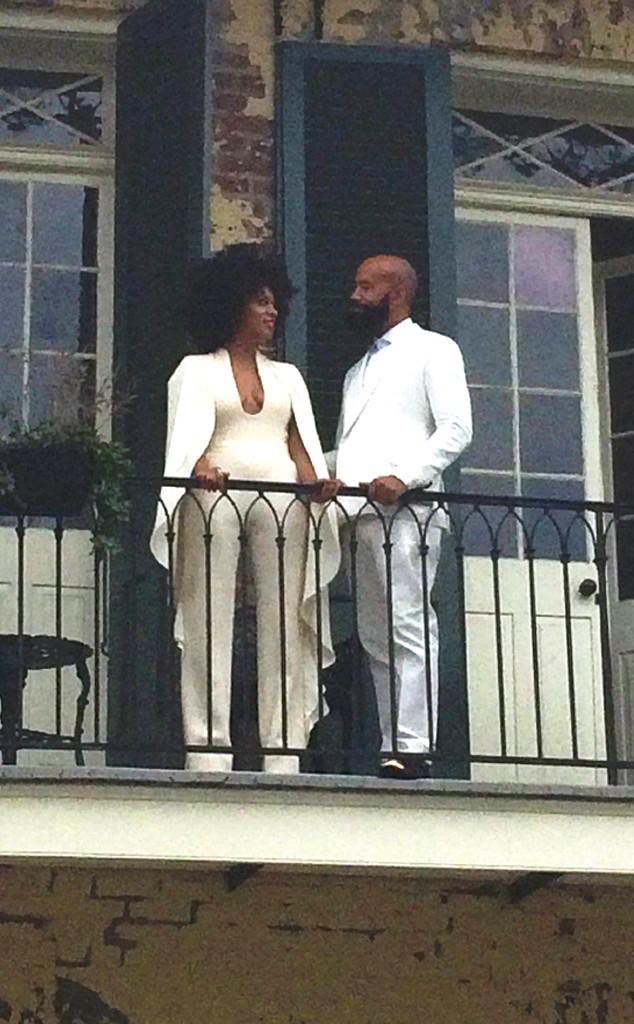 It's official!
Solange Knowles tied the knot with her longtime love Alan Ferguson on Sunday in front of about 100 close friends and family (including Beyoncé, Jay Z and Blue Ivy Carter!) at a church in New Orleans.
The guests, including Bey and her family, all sported shades of white. The singer and Blue Ivy wore dresses, while Jay Z sported a white suit. The couple beamed as they took photos after the ceremony, while mom Tina Knowles was spotted holding hands with her boyfriend.
 Before the wedding, Solange and her beau were spotted riding bicycles, during which several residents congratulated them on their upcoming nuptials, E! News has learned.
The pre-wedding festivities kicked off on Friday night. Solange, sporting a gorgeous, modern bridal-style dress, was spotted walking and holding hands with her beau as they headed towards the Indywood Cinema theatre, while Bey was seen entering the building by herself. Guests reportedly watched Mahogany starring Diana Ross.
Solange's son, Julez, from her previous marriage to Daniel Smith, played a big part of the couple's special day as well.
The singer first sparked the news that she was engaged after posting a photo on Instagram of her and Ferguson swimming in an ocean and embracing while on vacation for her birthday.
The caption included a heartfelt message to her fans and loved ones, saying, "Today couldn't have been more perfect. I couldn't have smiled harder. Thank you for all of your lovely and wonderful wishes. They warmed my heart and I simply feel grateful for all of the love."
After a barrage of inquiries from fans, wondering if the two got engaged, Bey's little sister mysteriously removed the loved-up pic from her photo-sharing site.
Ferguson is an American music video director who has worked with Katy Perry, Fall Out Boy, Gym Class Heroes, Nelly Fertado, and, of course, Beyoncé and Jay Z.
NoLa holds a special place for the newlyweds, and the two chose to move from Brooklyn and have been living there for months.
In a March interview with Harper's Bazaar, Solange opened up about moving down South and life after divorce.
"In a lot of ways, emotionally and mentally, I feel far older than 27. Just going through a marriage and a divorce—which I essentially did by 21—will give you an insane amount of perspective on life," she shared with the women's magazine.
"Everyone talks about how, in your 30s, all of these growing pains transition into wisdom and you feel more self-assured and confident. But I think I had a bit of a jump-start on that at 27."
She also explained how her songwriting now has hit a snag, largely in part because her love life is better than ever.
"Luckily, I dated all of the losers ages ago. My love life has been stable for a while. It's a f--ked up thing—without conflict it's a lot harder to write interesting songs."
Congratulations to the happy couple!
—Additional reporting by Michelle Falls