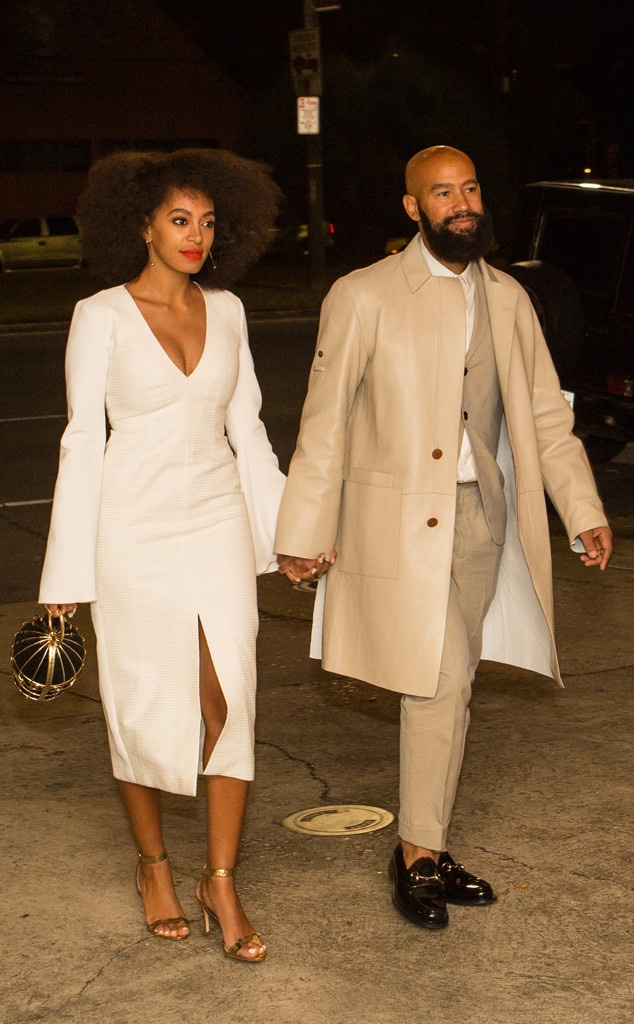 Josh Brasted/GC Images
Let the celebrations begin!
As anticipation grows for Solange Knowles and fiancée Alan Ferguson's possible wedding weekend, the happy couple stepped out in New Orleans Friday night to kick off the festivities.
Wearing a stunning white gown with gold Loeffler Randall heels, Solange entered the Indywood Cinema theatre with a Kate Spade bag holding hands with her main man. Ferguson, who is a talented music video director, also appeared quite handsome in a well-fitted suit and jacket.
While the bride and groom looked "Crazy in Love," Solange's fabulous sister Beyoncé appeared to be glowing with enthusiasm.
Without Jay Z or Blue Ivy in attendance, the "Halo" singer put on a happy face as she entered the theatre. Wearing a dark blue jacket, black leather pants and matching heels, the proud sister sure knew how to kick off the weekend in style. 
According to the theatre's Facebook page, guests watched Mahogany starring Diana Ross during the pre-wedding party. "It was beautiful. They were beautiful," the post read. "Diana Ross is beautiful, love is beautiful." 
Although the extended family has had their ups and downs over the years, it appears everyone remains in a much better place.
"What's important is that my family and I are all good," Solange recently shared with Lucky magazine. "What we had to say collectively was in the statement that we put out, and we all feel at peace with that."
That statement is in regards to the infamous elevator fight, which caught Solange and Jay Z in a physical altercation. 
"At the end of the day families have problems and we're no different," they said May 15. "We love each other and above all we are family. We've put this behind us and hope everyone else will do the same."
Besides, this weekend appears to be all about love and positivity as Solange marries a man that can't help but make her smile.
"Today couldn't have been more perfect. I couldn't have smiled harder," she revealed this summer after a romantic birthday getaway. "Thank you for all of your lovely and wonderful wishes. They warmed my heart and I simply feel grateful for all of the love."
—Additional reporting by Michelle Falls