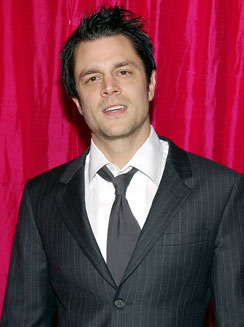 Nancy Kaszerman/WireImage.com
Only Johnny Knoxville would agree to do a telephone interview the same morning he had his man parts stitched up.
"I just walked out of surgery about 10 minutes ago," Knoxville said when I spoke to him a couple of hours ago. "I'm still a little groggy from the anesthesia."
Here's the backstory: The Jackass star, 36, suffered a very major, very bloody accident a couple of weeks ago while trying to perform a motorcycle stunt in tribute to the late Evel Knievel.
"I was trying to backflip a motorcycle," Knoxville said. "The bike goes up about 15, 20 feet in the air and comes back down and breaks its handlebar off in between my legs. I was laying there spread-eagle. They've never seen handlebars break off before—much less between someone's legs."
Shortly after the accident, Knoxville announced on his blog he had torn his urethra and that he'd have to wear a catheter for about two weeks. He also posted photos of blood-covered clothing.
The accident and a whole lot more will be broadcast on MTV this weekend, when—to celebrate the official launch of jackassworld.com—Knoxville and his crew of nutso pals take over the network for 24 hours starting at noon ET on Saturday.
But—per doctors orders—no stunts for Knoxville for about three months. "Usually if I have a cast or something on my arm or leg, I'll cut it off early," he said. "But this is the one time I will respect the doctors."
Luckily, Knoxville quickly pointed out, not all activity has been put on hold: "I just got the catheter out, and the doctor said I can resume normal functions immediately—like, manly functions."
Doubt we'll be seeing any of that on MTV. Then again, ya never know with Knoxville.