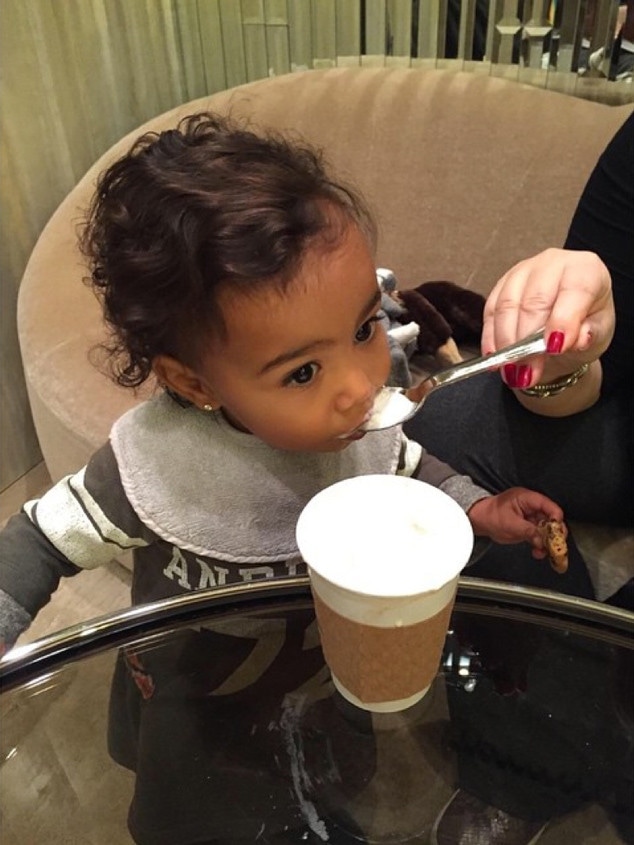 Instagram
Tis the season for cozy sweaters, indulgent beverages and adorable family photos!
While this may not be North West's first Christmas, it may be the first one in which she'll be able to consciously enjoy the many delights that the holiday season has to offer.
Starting today with her first hot chocolate!
"1st hot chocolate! #AuntiesSpoilingHer," Kim Kardashian shared a pic of her and Kanye West's 17-month-old daughter, her cute long-sleeve T-shirt protected by an impossibly chic bib, enjoying a spoonful of whipped cream.
Both Kim and Khloé Kardsahian already went on a look-at-our-darling tear on Instagram today, sharing pics of North's trip to the zoo with some of her honorary aunties, including jeweler Lorraine Schwartz. The youngster was bundled up in a Yeezus jacket and black knit hat as she perused the exotic birds, watched the porpoises do their thing and otherwise served as her aunt's photographic muse.
And when North didn't think the day could get any better... boom, first hot chocolate! Life doesn't get much sweeter.
Don't miss a new episode of Kourtney & Khloé Take the Hamptons, Sunday at 9 p.m. on E!