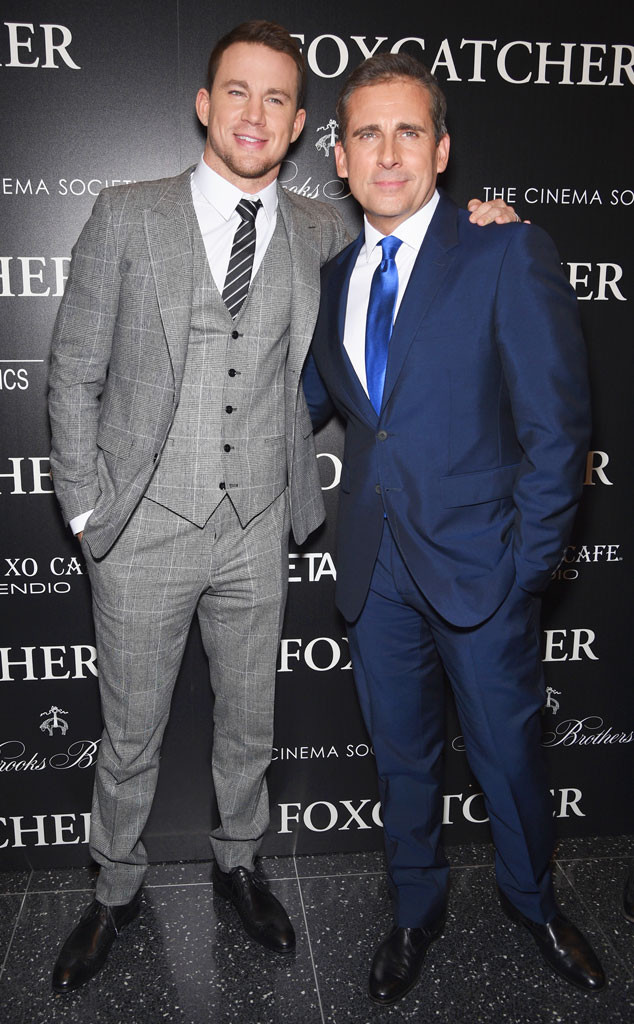 How hilarious would it be to see Steve Carell make a stripper cameo alongside Channing Tatum in Magic Mike XXL?!
At last night's AFI Fest premiere of Carell and Tatum's new film Foxcatcher in Hollywood, we asked the 52-year-old funnyman if he'd ever join Tatum for a sexy appearance in a Magic Mike flick.
"Probably never," Carell deadpanned. But why not? "Because I don't have a good body," the Office star added with a smile. LOL!
Carell also revealed that his teenage daughter Elisabeth is a big fan of Tatum and was excited her dad got to co-star with him in Foxcatcher. "She hasn't met him yet," Carell told E! News last night, adding, "She's probably picking out a dress right now."
Related:
Steve Carell's Parenting Advice to Channing Tatum
Jokes aside, Carell opened up about all the Oscar buzz his acting performance in Foxcatcher has garnered. "It makes me supremely uncomfortable," he told us during the Audi-sponsored bash. "I think it makes everybody uncomfortable."
"It's nice to be talked about that way," he added. "It's nice to be part of that conversation. You can't put too much stock into it."
In Foxcatcher, Carell is almost unrecognizable due to a large prosthetic nose he wears to plays real life character John du Pont. "The nose is such a small part of the whole thing," he said. "I think Bill [Corso] did a great job with the hair and makeup and it was effective, but we all took this very, very seriously and that was just one component. And I think so much of it was learning the story, trying to understand who these people were."
Watch the video to find out what parenting advice Carell gave Tatum!