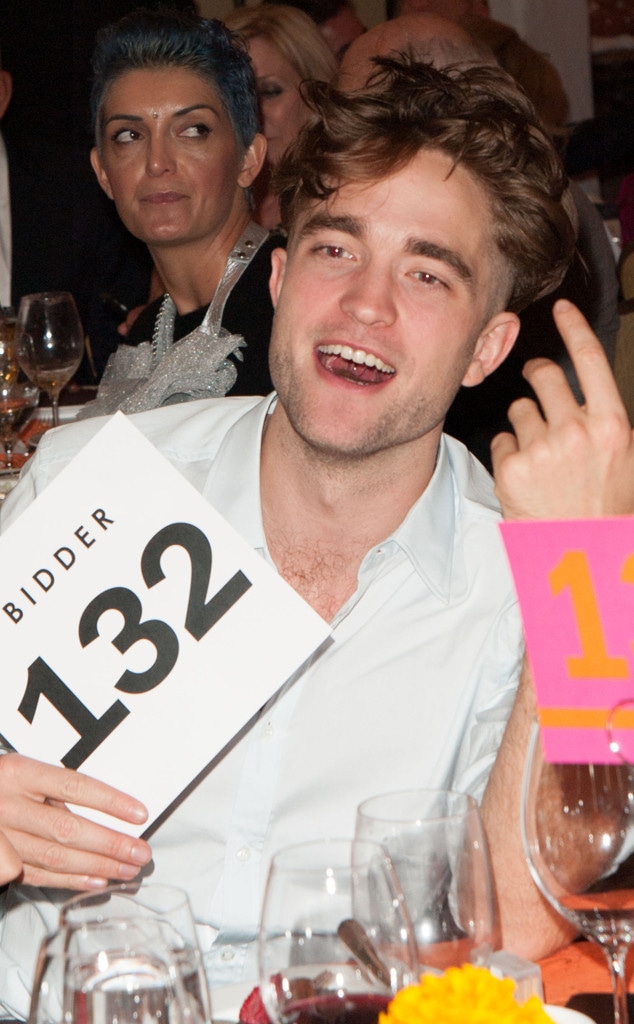 Lily Lawrence/WireImage/Go Campaign
Unsurprisingly, Robert Pattinson—and his insane new hairdo—stole the spotlight last night at the 7th Annual Go Go Gala in Beverly Hills, where the 28-year-old hunk showed his support for the charity, which works to improve the lives of orphans and vulnerable children around the world. 
The former Twilight star is close with the organization's founder, Scott Fifer, with whom he posed for pics on red carpet (Pattinson also attended the event last year). 
According to an eyewitness, FKA Twigs' man arrived solo and earlier than expected, and, despite being the biggest star in the room, he kept a low profile before he took a moment to walk the red carpet, showing off his headline-making hairstyle. 
"He wasn't being bothered by anyone and seemed to be enjoying himself before the dinner began, and, even though there were young girls present, he was not approached by any Twi-hards!" the eyewitness said. 
Lily Lawrence/WireImage/Go Campaign
Prior to the charity dinner, drinks were served at the event, and Rob appeared in good spirits while sipping a beverage out of a white wine glass with a lime in it (perhaps a fancy cocktail?) as he chatted with pals, including Always Sunny in Philadelphia's Glenn Howerton. 
"He looked upbeat and was constantly running his fingers through that shaggy new 'do before he headed into the ballroom a few minutes early for dinner," the eyewitness says. 
Swoon (at least if a bowl cut's what you're into)! 
During the three course meal, which took place at the Montage in Beverly Hills, Rob sat next to Howerton, as well as a blond woman, who appeared to be part of the charity gala. He listened intently to the program and stood up from his seat when honoree Ruchira Gupta was given a standing ovation after her speech. 
Lily Lawrence/WireImage/Go Campaign
While dessert was being served, an auction took place, and once again, Rob did not disappoint. The Cosmopolis star bid $6,000 for a dinner for 12 at Gjelina restaurant—a popular eatery in Venice often frequented by Beyoncé and Jay Z—although the fancy meal ended up going for $8500. 
While Rob did not publicly bid on any of the other items, a source tells E! News that the charitable thesp contributed a "significant amount" to Go Go Gala, and clearly, he couldn't stop smiling at the auction.
"Overall, everyone seemed really pleased to have such a big name attached to the project!" the eyewitness said, noting that Rob brings a famous face to a very important cause. 
Last year, Fifer publicly applauded Rob at the event after the actor donated a meet-and-greet on the set of Twilight: Breaking Dawn for the non-profit's online auction two years ago. The item was sold for $80,000 to a woman in Chicago and the proceeds led to the creation of the Program Advancing Girls' Education (PAGE) in Cambodia. 
Talk about a hottie with a heart of gold!