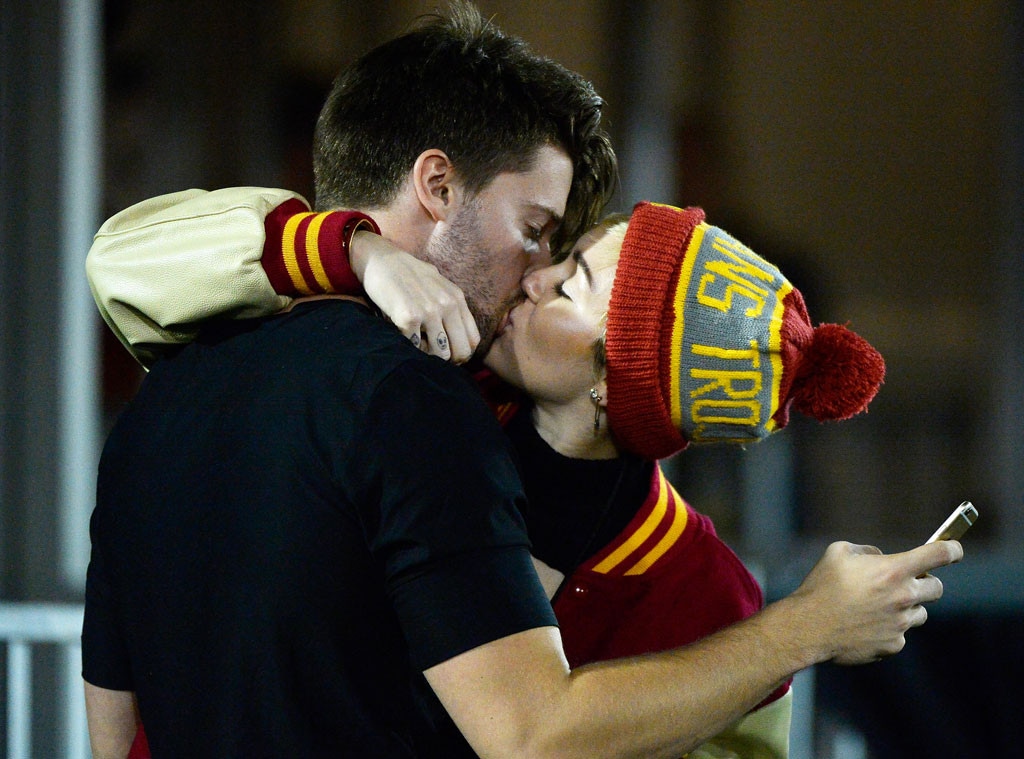 Harry How/Getty Images
Miley Cyrus and Patrick Schwarzenegger must be really good friends!
The singer and model/college student, both 21, were making out Thursday for all to see at the USC vs. Berkeley football game at the L.A. Memorial Coliseum. Adorably, Miley dressed in Trojans gear, wearing a hat and letterman jacket to show her support for Patrick's school.
"They were very flirtatious and [looked] like a couple," an eyewitness told E! News. "She was gregarious and was talking to his friends too which was nice to see because she didn't seem stuck up."
Another onlooker noted they were "very touchy," even "holding hands all down the Coliseum steps."
So what's the deal between these two? Well, they're obviously quite fond of one another, but as of a few weeks ago, they'd yet to make anything official. "They don't have a title," a source told E! News. "They are having so much fun together that friends don't know at certain times if they are a couple or best friends."
This past weekend Miley and Pat enjoyed a date night out with some friends at Bagatelle restaurant in West Hollywood. According to a source, they were out with about 15 pals—mostly Patrick's—for a birthday party. "They were definitely affectionate, holding hands, taking photos together and clearly were into each other all night," an insider dished.
"They might seem like an odd pairing, but they are quite good for each other," a source close to the maybe-couple has said. "They've been friends forever."
"Patrick loves what an amazing heart she has and that she really pushed him out of his comfort zone," added the source.
He's admitted to having a little crush on Ms. Cyrus before, too! Back in 2011, he told Details magazine, "My eye, though, is set on Miley."
—Reporting by Ali Blair, Baker Machado and Ruth O'Neill