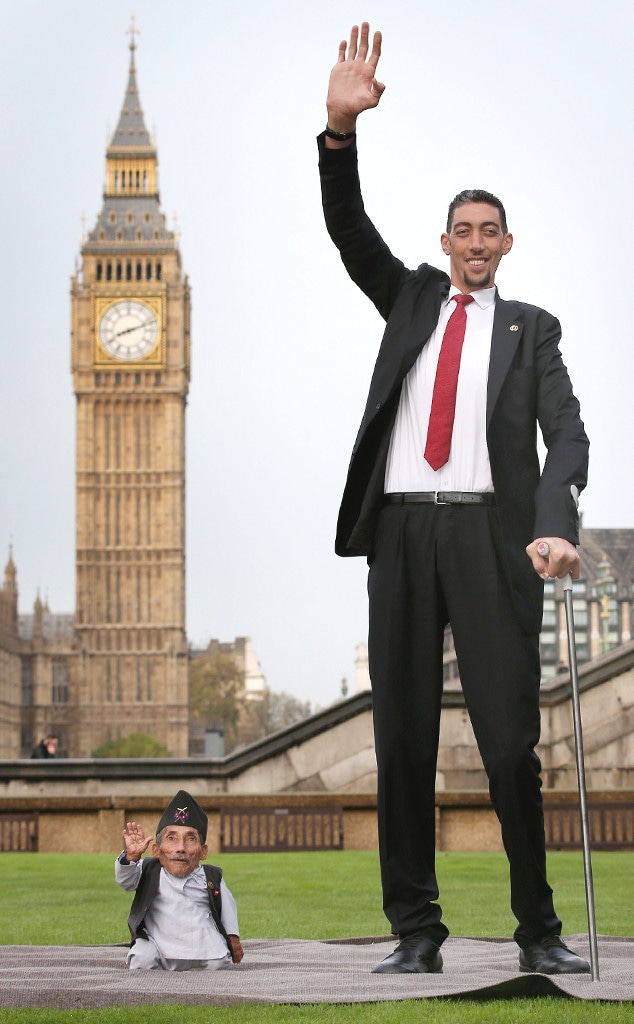 Peter Macdiarmid/Getty Images
People come in all shapes and sizes—just look at these two!
On Thursday, otherwise know as Guinness World Records Day 2014, the world's tallest man and the worlds shortest man met for the very first time in London!
Sultan Kösen, a 31-year-old farmer from Turkey who stands 8-foot-9, became the world's talent living man in 2009 per Guinness World Records, taking the title from China's Xi Shun, who stood 7-foot-9.
As for the shortest man ever? Chandra Dangi, a 71-year-old from Nepal, stands just 21.5 inches tall, which, according to Guinness, makes him about the same size as six stacked cans of baked beans. Chandra is the shortest adult human ever to have had their height verified by Guinness World Records, beating a benchmark set by the late Gul Mohammed from India, who was 22.5 inches.
Yunus Kaymaz/Anadolu Agency/Getty Images
"Even though he is short and I am tall, we have had similar struggles throughout our lives and when I look into Chandra's eyes, I can see he's a good man," said Chandra, per the U.K.'s Telegraph.
"It's been a lifelong dream to travel and becoming a Guinness World Records title holder has enabled me to do that. I'm honored to be in London, I've always wanted to visit and the fact I get to meet Sultan is special," he added. "It makes me extremely proud to represent Nepal all around the world, I'm extremely humbled by the support I receive."
These two aren't the only ones making history today, which just so happens to be the 60th anniversary of Guinness World Records celebrations.
A group of people at China's Shangri La Hotel will be attempting the beat the record for Most People Eating Breakfast in Bed (current number to beat is 289 people), and at London's Tower Bridge, a group of people are trying to set a new record for Largest Gathering of People Dressed as Penguins (number to beat: 325 participants).
On this side of the pond, Today's Al Roker is going trying to break the world record for the Longest Live Weather Report Broadcast!