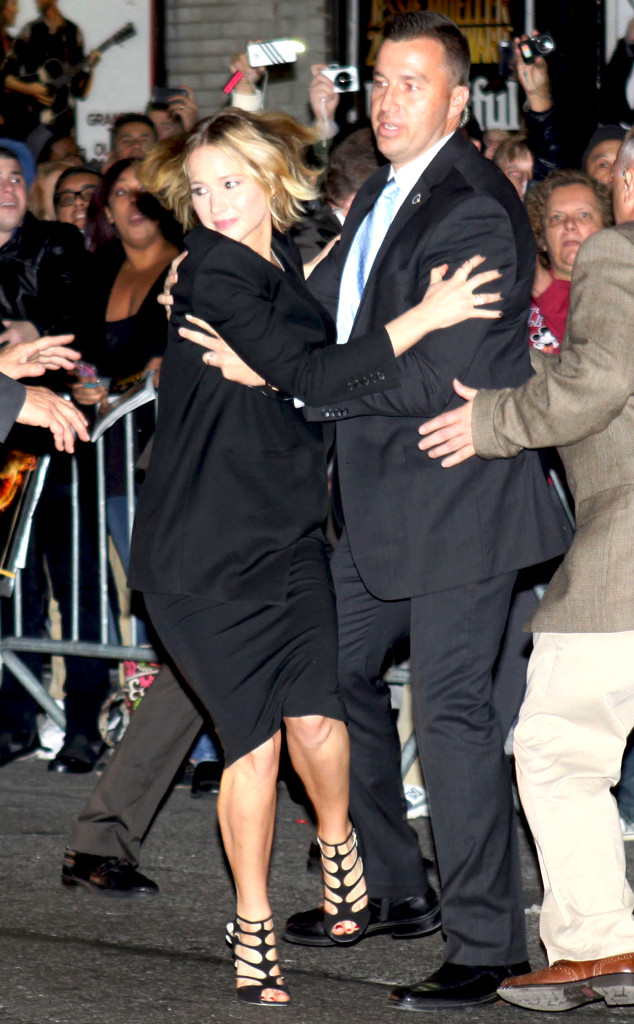 GG/FAMEFLYNET PICTURES
Jennifer Lawrence's fans are no joke.
The Oscar winner was almost mobbed by fans outside of the Late Show With David Letterman studios in New York City last night when she was swiftly whisked away by several security guards in order to ensure her safety.
The Hunger Games: Mockingjay—Part 1 star was signing autographs for fans behind a barricade when all of a sudden the metal bars were pushed forward by overzealous fans.
J.Law barely batted an eye before two guards grabbed a hold of her and she briskly walked across the street to get inside her chauffeured SUV.
The 24-year-old didn't appear to be fazed by the blink-and-you-may-miss-it incident, but she certainly did have cat-like reflexes to get her out of the potentially scary situation as quickly as possible.
During the late night talk show, the blond beauty was her usual charming self and joked with David Letterman about her terrible singing voice.
She confessed that "singing in front of other people" is her "biggest fear," and that she thinks she sounds like a "tone-deaf Amy Winehouse."
Lawrence does end up singing in a scene of the upcoming flick, and shared that she has yet to see her belting a tune on the big screen.
"I still haven't heard it. I put my fingers in my ears...I was like, 'Will you guys please get, like, Lorde to really sing it and I'll lip synch?' They said, 'No, it's really [got to be] your voice.'  So, I avoid [watching] that scene."