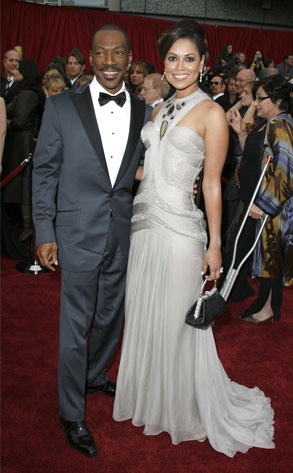 Steve Granitz/WireImage.com
The Eddie Murphy and Tracey Edmonds split apparently involves some name-calling.

And that name in particular is Murphy.

I'm told one of their major—and ongoing—disagreements was whether Edmonds would take Murphy's last name. "He was insisting she change her name," a source just told me. "It was a huge issue. They were arguing about it before they left for the wedding."

People magazine broke the news today that Murphy, 46, and Edmonds, 40, split just 14 days after their New Year's Day wedding on a private island off Bora Bora. Attended by just 25 friends and family, the ceremony wasn't legally binding. However, the couple insisted they would make it legal with the proper ceremony when they returned to the U.S.

"There was a knockdown, drag-out family fight two days ago," my source said.

Reps for each released the same statement earlier today. "After much consideration and discussion, we have jointly decided that we will forgo having a legal ceremony as it is not necessary to define our relationship further," the statement reads. "While the recent symbolic union in Bora Bora was representative of our deep love, friendship and respect that we have for one another on a spiritual level, we have decided to remain friends."

For more on the Murphy-Edmonds romance and breakup, click over to News.