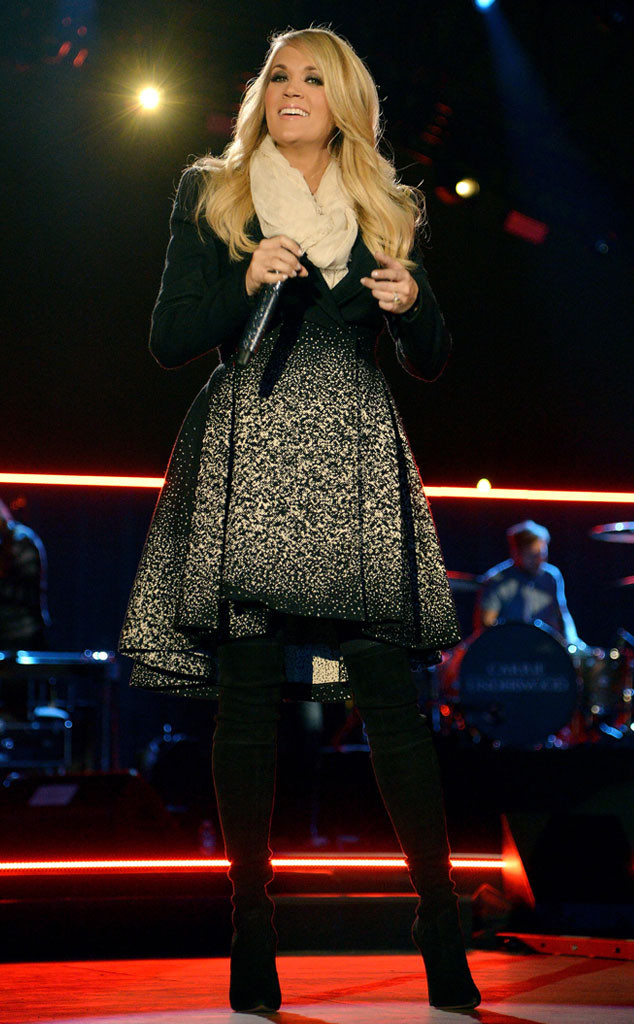 Kevin Mazur/Getty Images for HBO
Pregnant Carrie Underwood wowed the crowd at The Concert For Valor in Washington, D.C. on Veterans Day, singing a song that has brought comfort and hope to scores of military families, and also recently shared a touching personal story to mark the bittersweet holiday.
The 31-year-old country star showcased a winter wonderland-inspired look on stage at The National Mall, wearing a black, long sleeve, empire waist, flowy, tuxedo-collar coat dress with a speckled skirt that draped over her growing baby bump, paired with an ivory scarf and black, stiletto over-the-knee suede boots. She is expecting her first child, a baby boy, with husband Mike Fisher, 34, in spring 2015.
Tuesday's Veterans Day concert aired on HBO and also featured performances from Bruce Springsteen, Foo Fighters, Zac Brown Band, Metallica, The Black Keys, Rihanna, Eminem and fellow American Idol alum and Grammy winner Jennifer Hudson.
Underwood sang her 2013 single "See You Again," her 2006 hit "Before He Cheats" and her new song "Something in the Water," backed by the Singing Sergeants of the U.S. Air Force, Time magazine reported.
The first song bears a special meaning for many of her American fans whose loved ones are serving their country overseas.