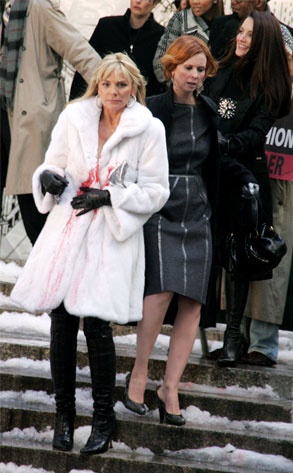 Nancy Kaszerman/ZUMA Press
Kim Cattrall may wear fur in the movies, but she doesn't in real life.
I'm told Cattrall has made arrangements for PETA to receive the four white furs she wears in the upcoming Sex and the City movie. The coats were used for separate takes of a scene in which PETA-like activists splatter Jones' coat with red paint.
The animal-rights group will distribute the coats to the homeless. Furs donated to PETA are given to the homeless, used in protests and displayed in various animal-rights exhibitions and events. "The only people who can be excused for wearing fur are the homeless—to keep warm during the winter," says PETA rep Michael McGraw.
McGraw says about 15,000 furs have been donated to PETA in the last 15 years. And yes, PETA cleans the pelts to get rid of the red paint. However, the group shaves a section down and covers it with a PETA patch because, says McGraw, "It drastically reduces its resale value."