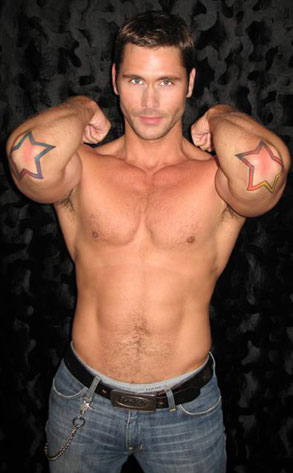 Frank Louis
If you've been watching the new season of Project Runway, you should know that hottie contestant Jack Mackenroth has no problem showing off his smokin' physique.
And it was just a couple of weeks ago that I first posted the above photo of the 38-year-old New Yorker from his official MySpace page.
Well, there's more—a lot more.
He's done full frontal and backside posing for New York-based photographer Frank Louis.
Mackenroth may have just won Project Runway's menswear challenge, but the nudie pics prove he doesn't need to wear anything. He looks good with or without clothes!
"I assumed the photos would surface at some point," Mackenroth just told me via email. "I'm proud of them. I think they are beautiful images of the human body, and they are certainly not pornographic. I've actually done nude photo shoots on a few occasions—most were just before the digital age so the photos are hard to come by. I love the photos—not just the nudes—and I would do it again."
Rock on with your naked, tattooed self!