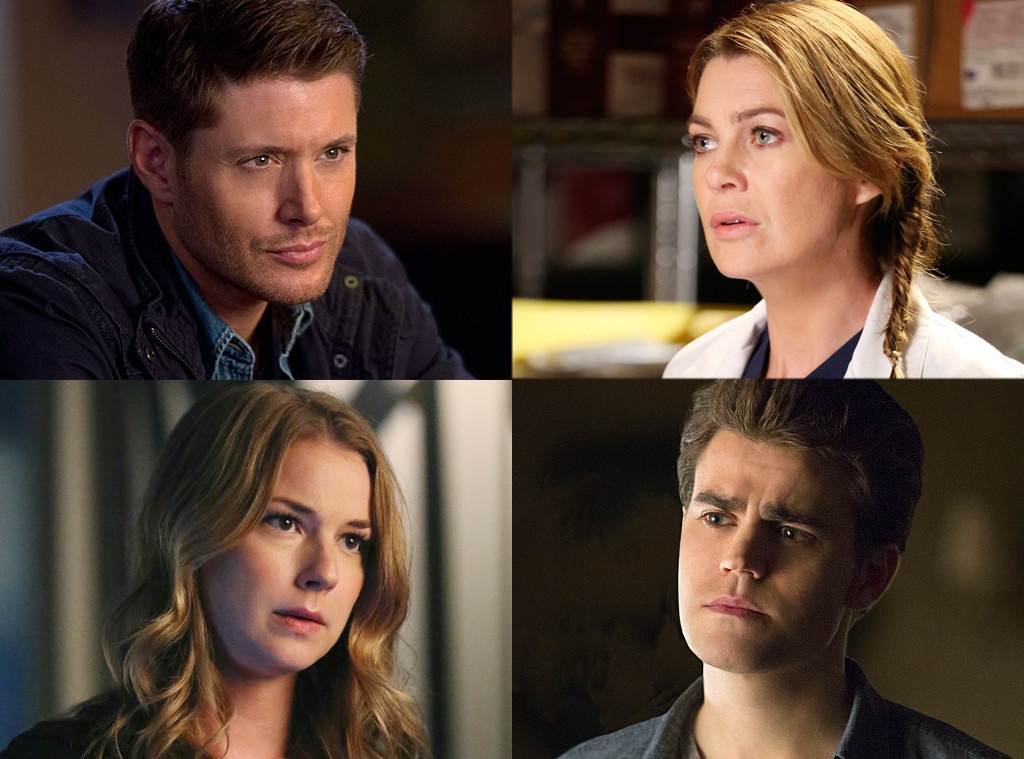 CW; ABC
Happy Tuesday! Time for your latest installment of Spoiler Chat, where we solve all of the world's greatest mysteries!
Or, you know, some stuff you want to know about TV.
What's the latest on TVD's Caroline and Stefan? The Affair, Grey's Anatomy, Revenge and more? Read on for the exclusive scoop....
Rob: Constantine scoop! Please!
Time to dust off your "Vote for Pedro" shirts! I can exclusively reveal that Napoleon Dynamite's Efren Ramirez has been cast on the NBC comic book show.  He will guest star in "The Saint of Last Resorts: Part 2" as Julio, a wily, street smart inmate who knows how to "get things" in a Mexican prison, ranging from cigarettes to drugs to women.  He's a survivor who'll do what it takes to make it another day, and he thought he'd seen it all—but Julio's never met an inmate like John Constantine. As for why Constantine is in a Mexican prison? We've got a few ideas…
peaceloveeAngie: is there any chance Stefan and Caroline are going to reconcile and is there any hope for them #spoilerchat #TVDS6
Raise your hand if you kind of hate Stefan right now and think Caroline deserves way better than the jerk he's been this season?! "Caroline hoped that if Damon ever came back, she would get Stefan back too," executive producer Julie Plec tells me. "She's still very hurt, and he has amends to make, so we'll see in the coming episodes whether they can find a way to repair their friendship." And for all you Steroline fans, they need to repair the friendship first if they ever hope to have anything more than that between them.
Larissa: I loved last week's April/Jackson-centric storyline on Grey's Anatomy. Are we going to see more of them on screen?
You're in luck! According to Sarah Drew, last week's episode was just the beginning of April and Jackson's season-long journey. "I'm so excited for fans to see April and Jackson's relationship develop more," Drew tells me. "We've seen them as best friends, we've seen them as lovers, we've seen them fall in love and now we get to see them settling into their lives as a married couple and all the craziness that comes with preparing for baby. I'm so excited to jump into their marriage in a way that we haven't gotten to yet."
TonyTheTVGuy:  will we ever see Esther Back into her original body? #TheOriginals
We've been wondering that same thing! We miss the original Original Mama. "Alice Evans hasn't returned as Esther for any present-day stories yet (though that doesn't mean it'll never happen)," executive producer Julie Plec says. "But we will see another actress, Hayley McCarthy, playing Young Esther in flashbacks to the Mikaelsons' life before Klaus and Elijah were born."
Jeaneen: Revenge is SO good this season but Louise is really starting to scare me!  Is she leaving soon?
The scares will keep on comin' as the crazy Southern belle is stickin' around for a while. The show is currently looking to cast her older brother named Lyman Ellis. Handsome and driven, he's able to go from charming to conniving in a heartbeat and is super manipulative. So…he's a politician, of course!
InspiredByStana: Will Jerry Tyson be making a comeback this season on #Castle? 
Sure sounds like it! According to executive producer David Amann, "We plan to revisit the 3XK storyline in a significant way. We're working on that episode right now."
AlwaysCastle47: When will the "missing 2 months" storyline come back up on #Castle?
 It's definitely not gone for good! According to Amann, "This is a mystery that's very personal to Castle and he will definitely delve back into it."
Sarah: ABC has my favorite comedies. Wednesday night is my bliss! Whatchu got?
Death comes to The Middle. You've been warned.
Randall: The Comeback was so good on Sunday!! What's ahead?
Don't wat to spoil any of the surprises, because there are only 8 episodes and you deserve to be legit surprised by every delicious Valerie moment. But you should know that episode three involves a blow job scene and it might be the funniest Comeback episode of all time. The cringe factor is high, but it's also strangely sweet (TWSS). Just wait. So so so so good! 
Taylor: So obsessed with The Affair right now and can't get over the murder reveal! Will it have to do with the connection between Scotty and Noah's daughter Whitney?
Astute, you are! "I can tell you that it's going to come back," Colin Donnell teases of Scotty's connection with Noah's underage daughter. "It's not something that was there, like everything, it wasn't just there because."
Welovejackles: how will the Mark of Cain continue to affect Dean and what's going to happen to him? #supernatural #spoilerchat
Executive producer Jeremy Carver told us that's going to be a huge part of the rest of the season. "The [brothers'] newfound rediscovery of [their] bond is really put to the test in the coming episodes," he says. "Their troubles are not over yet for either of them. Dean's not quite out of the woods yet regarding the Mark of Cain and Sam is not quite out of the woods as to what that means to him as well."
Francesca: I need my Parenthood fix! Will Joel and Julia be OK?
We'll have more from them from the set today! In the meantime I can tell you that there are some cast members are NOT happy about the death that's coming. Meaning they don't think it's a good idea for the show...Hmm...
Monica: Got any Jane the Virgin scoop for me?
Let's just say Jane does the walk of shame in an upcoming episode. Yeah, that kind of walk of shame. Commence all your pearl-clutching now, especially since Jane encounters nuns during her embarrassing morning after!
Maddie: Got anything on Red Band Society?
Prepare to meet Leo's parents in an episode later this season. Oh, and two of the Red Banders will sleep together. (Emma is not one of them!)
Sam: Can I get an update on my favorite mechanic, Raven? #The100
She may have been out of commission after her surgery (without anesthesia!), but she won't stay down for long. "She was out of last week's episode and in my mind, she was just sleeping that whole time, recovering from her surgery," Lindsey Morgan explains. "It's amazing that she's even alive! We pick up with her at the brink of starting her new life, being handicapped and paralyzed in one leg. She needs to figure out what that means and how she can live her life and how she can even function. The opening scene is one of my favorites, and it's really daunting to Raven to face that obstacle." Expect to see her stumble (literally and figuratively) a lot in this week's episode and on. 
Spoiler Chat is new every Tuesday on E! Online. BOOKMARK THIS PAGE so you can always find it!
Be sure to send in questions via Twitter or Facebook. WE NEED YOU!
TWITTER: Follow @kristindsantos!

—Additional reporting by Tierney Bricker, Chris Harnick and Sydney Bucksbaum
PHOTOS: And the next new canceled show will be...