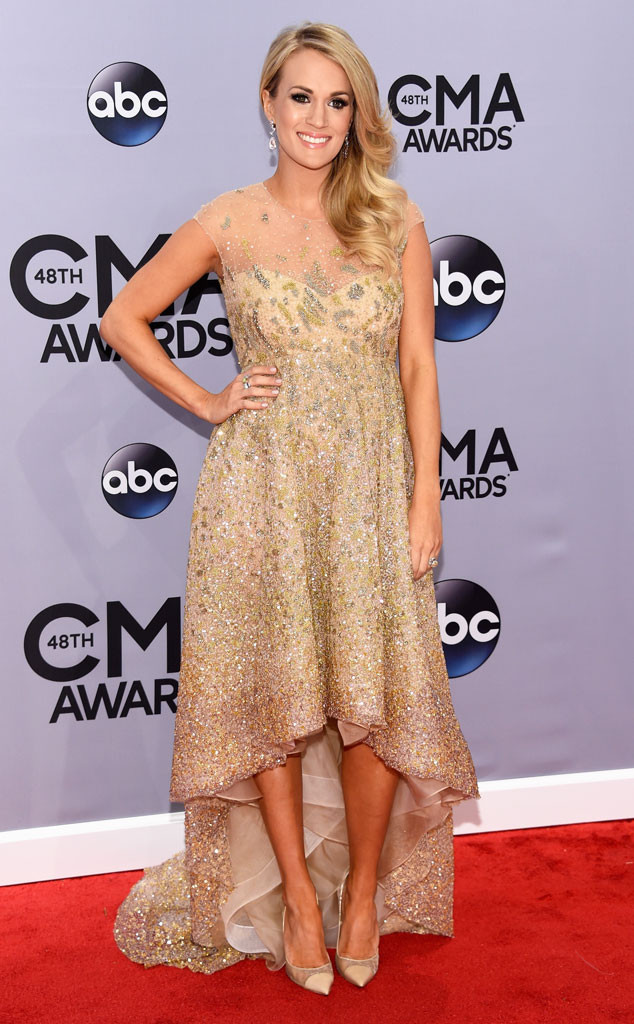 Larry Busacca/Getty Images
Thanks for spilling the beans, Brad Paisley! (#Bradblewit)
Carrie Underwood reclaimed her spot on the CMA Awards stage with her country-singing co-host, and during the pair's opening monologue tonight, Paisley started joking around about Underwood's pregnancy.
"And we're pregnant!" he quipped, which caused Carrie to interject, "Brad, I don't remember you being there."
He responded, "Carrie, you can't keep me out of this child's life," and begged to know whether she's having a boy or a girl. After some persuading, she pulled him aside and whispered in his ear. "I know something you all don't know. Suck it, TMZ," Paisley gloated, but it wasn't long before everyone knew what he knew.
While talking about Garth Brooks, Brad accidentally (maybe?) said, "We should name him Garth!" and gestured to Carrie's baby bump. BOOM, the cat's out of the bag.
The pregnant star didn't seem too angry that he revealed her secret, which makes us think that this was all planned from the beginning, but regardless, Carrie Underwood is having a baby boy, so let's start breaking out the blue, y'all! Unless, of course, this was all a sham for the show.
The "Before He Cheats" singer announced in early September that she is expecting in the most adorable fashion, Instagramming a photo of her two dogs sporting outfits which read, "I'm going to be a BIG BROTHER" and "I'm going to be a BIG SISTER."
The 31-year-old beauty also recently appeared on The View where she expressed her excitement over the impending arrival of her bundle of joy and even revealed her due date! When asked about her parenting concerns as she prepares for the birth of her first child with husband Mike Fisher, the country crooner replied with a smile, "Just being responsible for a tiny human." 
And that's when she shared that she's "due in the spring" while beaming from ear to ear and showing off her pregnancy glow.