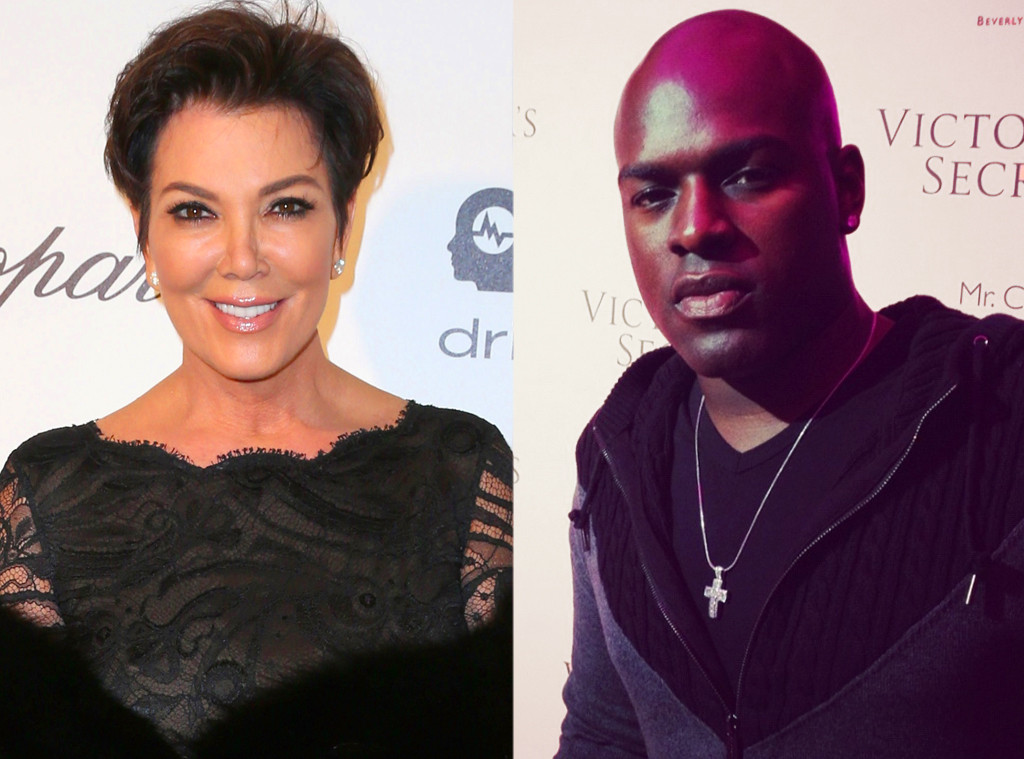 Frederick M. Brown/Getty Images; Twitter
Love is in the air!
It was just yesterday that E! News confirmed Kris Jenner and friend Corey Gamble have decided to take their relationship to a romantic level, and the dating duo didn't waste any time in flaunting their admiration for one another.
Following their several-day Mexican getaway, the lovebirds were photographed getting close after touching down at the airport in Van Nuys, Calif. In the cute pics, a smiley Kris couldn't hide her happiness while hugging and cuddling Corey, while other snapshots showed the twosome holding hands.
"They looked like a loved-up couple," an eyewitness told E! News. "In the brief time they were loading up luggage, Corey put his arm around Kris and she reached out to hold his hand."
So who exactly is Corey Gamble? Here are some fun facts about the E! matriarch's new love interest...
1. Basic Background Info: Gamble is 33 years old originally from Atlanta, according to his Facebook page. He went to Westlake High School and then to Morehouse College to study business marketing.
2. He's a Scorpio, Too: Kris' new beau will be turning 34 years old on Nov. 10. Jenner, meanwhile, will be celebrating her special day tomorrow, which means this is a love connection between two Scorpios. So in case you're wondering about their astrological compatibility (of course you are, we're not judging), it could go either way.
According to Astrology.com, "When two Scorpions make a love match, it is a fierce tempest of intense passion. Both are obsessed with one another, and they move forward in love, sex and romance at an accelerated—some would say foolish—way. Personal relations are positively steamy but, to the equal and opposite extreme, disputes will also be frenetically powerful. The relationship could go either way: It will either be the most wonderful thing in the world or a destruction of both involved."
3. The Justin Bieber Connection: These two run in the same circle. Gamble happens to work for Bieber's manager Scooter Braun, and seeing how the Kardashian-Jenner family is close to Justin, it was only a matter of time before Kris and Corey became acquainted with one another.
"What started off as a friendship has turned romantic, but it's all very new," an insider recently told E! News. The source added that Kris and Corey met in Spain at designer Riccardo Tisci's 40th birthday party back in August in Ibiza, which J.B. attended, too.
4. He's Not Big on the Party Scene: Although Gamble lives a lavish lifestyle, you won't see him getting bottle service every night the week. "He's a really great guy...He's so nice and a very responsible man. He doesn't drink or party. He is very caring about other people and generally just an all round good guy," a source has told us.
5. But He's Up for a Vegas Trip: Sure, Corey's not one to party all night, but he's up for a quick trip to Sin City. Gamble joined Kris and the family for a trip to Las Vegas for Kim Kardashian's annual birthday celebration at Tao nighclub last month.

6. It's Not Social Media Official: Corey doesn't follow Kris on Twitter, and she doesn't follow him, either. In Gamble's defense, he doesn't seem to be too active on social media, with his last tweets being from August. As for his ladylove, we all know she's always tweeting, but c'mon. You don't follow a guy that's not following you already. Duh.
7. He Already Has an Imposter: The second there was any speculation around Kris and Corey's dating status, someone pretending to be Gamble gave a fake interview about the duo's sex life to media outlets. Further investigation proved that this person, and the entire interview, was phony.