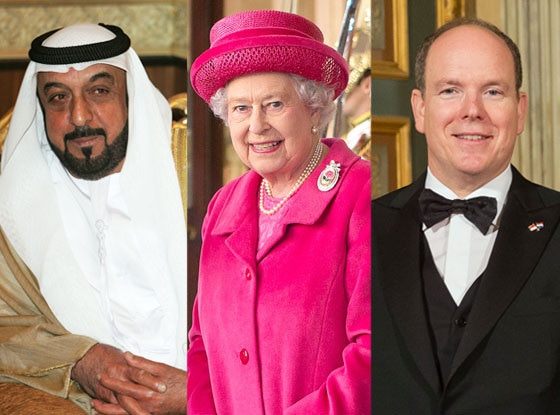 Anwar Hussein/Getty Images, Alastair Grant - WPA Pool/Getty Images, Michel Porro/WireImage
Royals have it all: Power. Privilege. And money. Lots of it.
In the upcoming series The Royals starring Elizabeth Hurley as Queen Helena, William Moseley as Prince Liam, and Alexandra Park as Princess Eleanor, viewers will be watching a fictional modern-day monarchy living at its utmost level of decadence.
From lavish parties and private residences to the finest jewels and clothing, these royals spare no expense when it comes to enjoying the better things in life...and neither do the real royals around the world.
We're counting down 10 of the richest royal families that rule the world...and we bet you'll be surprised by who tops the list!
10. Mswati III, King of Swaziland
With an estimated net worth of $100 million, King Mswati III is the present king of Swaziland and Africa's last absolute monarch. A crown prince at 15, he became King at 18, making him the youngest reigning monarch at the time.
Noted for leading an opulent lifestyle, the King also practices polygamy and has 15 wives—he's made a habit out of selecting a new wife every year during his country's annual Umhlanga Ceremony (aka Reed Dance).
The King has 13 royal palaces, owns a $17 million private jet, and constructed a $280 million airport in Swaziland's remote northeast. Much of his money comes from the Swazi sugar industry, the royal family's hold on 60 percent of the land, as well as the King's direct control over a national investment fund that has stakes in minerals, real estate, breweries, insurance, and agriculture.
CARL DE SOUZA/AFP/Getty Images
9. Queen Elizabeth II, Queen of England
Also on the list is Queen Elizabeth II, the current Queen of England who has an estimated net worth of $500 million.
The Queen receives an annual salary of $12.9 million, while her private residence (Buckingham Palace) is estimated to be worth around $5 billion.
A majority of the Queen's wealth lies in real estate and jewelry, in addition to Balmoral Castle in the Scottish Highlands, stud and fruit farms, one of the world's largest stamp collections, as well as a selection of swans on the Thames River.
Alastair Grant - WPA Pool/Getty Images
8. Albert II, Prince of Monaco
The current ruler of the Principality of Monaco, Prince Albert II has a net worth value of $1.4 billion.
The son of actress Grace Kelly and Prince Rainier III, His Highness inherited the family fortunes which include real estate, an antique car collection, art, stamps, and a stake in Monte Carlo's casino.
His official residence is the Prince's Palace of Monaco, which is open to the public during the summer. There he hosts many concerts, Christmas parties, and other elaborate events.

7. Mohammed VI, King of Morocco
Rumored to be worth $2.5 billion, King Mohammed VI of Morocco owns large stakes in ONA Group—a Moroccan company with assets that include the country's largest phosphate miner.
He resides in a palatial mosque which he opens to the public, and he has received praise for working to improve Morocco by giving women more power and creating more jobs to improve the country's poverty level.

Chris Jackson/Getty Images
6. Hans-Adam II, Prince of Liechtenstein
Prince Hans-Adam II is worth $4 billion and his most valuable asset is LGT (his family's bank), as well as his family's art collection—the world's second largest privately-owned collection.
An art aficionado, the Prince spends $18 million on his art collection every year and resides in Vaduz Castle, a hilltop palace.

5. Sheikh Mohammed Bin Rashid Al Maktoum, Emir Sheikh of Dubai
The Ruler of Dubai holds a majority of shares in Dubai Holding, a conglomerate with stakes in HSBC Holdings and Sony, along with real estate holdings that include New York's Essex House Hotel.
Valued at $4.5 billion, Mohammed bin Rashid has the money to spare and even spent $460 million on Australia's Ingham stud farm. He has big goals for his city, which include leading an Arab renaissance that will transform Dubai into a world financial capital.
He's the owner of the prestigious Godolphin stables outside of Dubai, the Darley Stud thoroughbred breeding operation, and at one time he owned the largest yacht in the world.
cott Barbour/Getty Images
4. Sheikh Khalifa bin Zayed Al Nahyan, Emir of Abu Dhabi
Worth around $15 billion according to Forbes, the Emir of Abu Dhabi has around 10 percent of the world's oil reserves that make up his wealth.
Sheikh Khalifa has seen the value of his real estate grow (a 100 percent increase within 2 years), and he has invested billions in Citibank, in addition to buying New York's Chrysler Building for $800 million.
Anwar Hussein/Getty Images
3. King Abdullah bin Abdul-Aziz, King of Saudi Arabia
As the king of a country that earns around $1 billion a day from oil exports alone, it's no wonder that King Abdullah bin Abdul-Aziz is the third richest royal in the world!
Worth around $18 billion, the King has four wives that make up his immediate family and his palace in Riyadh is more than a square mile in area.
2. Hassanal Bolkiah, Sultan of Brunei
Worth around $20 billion, the Sultan of Brunei lives in the Istana Nurul Iman palace, which is the second-largest palace in the world at over 2 million square feet (even bigger than the Vatican palace)!
Much of his wealth comes from the country's natural resources, specifically oil and gas reserves, and he has put some of his riches towards his collection of 5,000 cars (take that, Jay Leno), an air-conditioned stable for his 200 polo ponies, and even had Disney theme park characters flown to Brunei for a birthday party!

Chris Jackson/Getty Images
1. Bhumibol Adulyadej, King of Thailand
This one may surprise some, but the king of Thailand reigns at the top of the list with a net worth of $35 billion!
King Bhumibol is the longest serving monarch in Thai history and also holds the world record for having the highest number of honorary university degrees.
Despite his incredible wealth (much of which comes from Thailand's Crown Property Bureau, where he is trustee), the King chooses to put his money towards multiple rural developments throughout the country and has even taken to working the land himself.
In addition to his main residence at Chitralada Palace (which is surrounded by a giant moat), the King also has a fleet of three aircraft, and is the owner of the Golden Jubilee Diamond—which was blessed by the Pope and is the world's largest faceted diamond.

Athit Perawongmetha/Getty Images