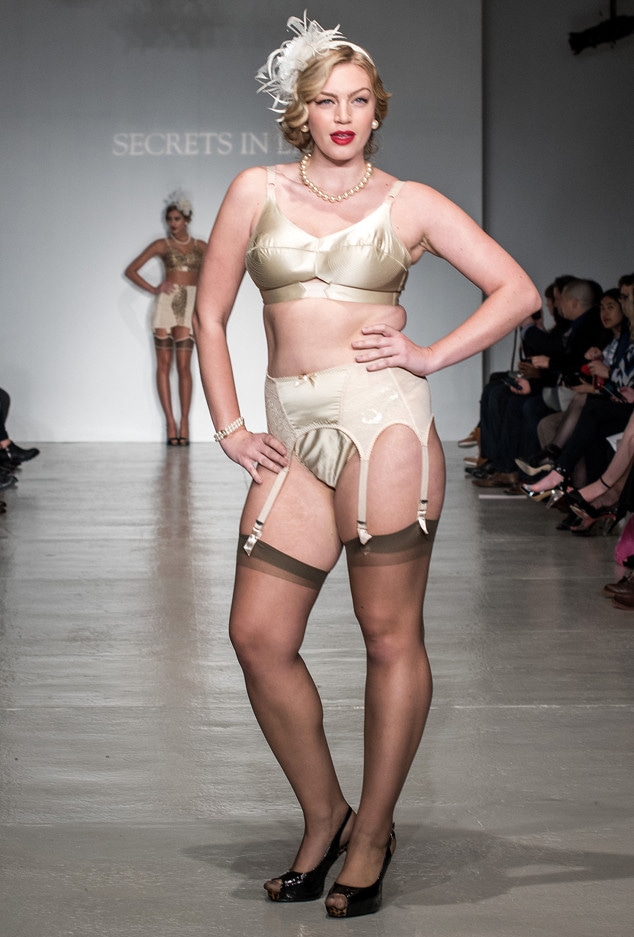 Secrets in Lace, Courtesy Lingerie Fashion Week
Victoria' Secret has come under fire for advertisements featuring models with "the perfect body."
The word "body" is meant to refer to their "Body" line of bras, but it's clear the public has interpreted it a wee bit differently, and their campaign quickly sparked outrage online. But now, it's also inspired a new campaign—and the Anti-Victoria's Secret runway show has been appropriately dubbed the "real 'perfect bodies'."
An army of gorgeous women of all sizes took the stage at the spring/summer 2015 season of Lingerie Fashion Week last weekend in New York to celebrate figures of all shapes and sizes—from 0 to 16 to pregnant, to a group of courageous breast cancer survivors and women currently living with breast cancer.
Founder Lauren Rich states, "From the beginning we envisioned Lingerie Fashion Week as a platform to embrace and celebrate a wide range of intimate apparel brands, and hence body types, from petite to full bust to full figure to maternity. Lingerie is not one-size-fits-all, and neither are the women who wear it—on, and off, the runway."
Victoria's Secret had no comment regarding the backlash to their "Perfect Body" campaign.
See some photos from Lingerie Fashion Week below:
Secrets in Lace, Courtesy Lingerie Fashion Week
Tia Lyn, Courtesy Lingerie Fashion Week
You! Lingerie, Courtesy Lingerie Fashion Week
The Giving Bride, Courtesy Lingerie Fashion Week
PinkChoseMe presented by Affinitas & Parfait, Courtesy Lingerie Fashion Week