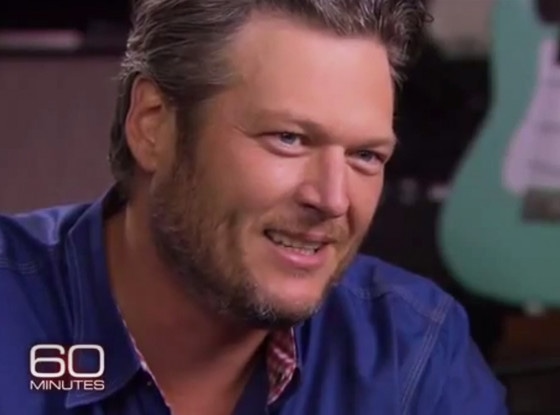 YouTube
Aside from being a country music superstar, Blake Shelton is the wiseass, Adam Levine-baiting, warm-hug-of-a-coach on The Voice.
But his rise to stardom has not been without major suffering.
In an interview that aired last night on 60 Minutes, the "Home" singer, who's nominated for three 2014 CMA Awards, opened up to Norah O'Donnell about his older brother's death when he himself was only 14; divorcing his first wife after meeting his current wife, Miranda Lambert; and why he and Lambert cling so fiercely to the little sliver of privacy that they have left. 
He said that some of his songs "will take you too far down there" and that it even hurts him to listen to some of them sometimes, and we can't help but think of "Over You," which he and Lambert wrote together about his brother Richie, whom he thought of as his hero growing up.
Asked how he dealt with his grief when Richie died, Shelton shook his head, saying, "I don't know, you know?"
"I remember picking up the phone to call him a week after he was dead to tell him something, and it was like...constantly a shock to me that he was dead. That was just..." he trailed off. "No, that's what my dad told me, too. He said, 'Look, you will never ever get over this happening, you're just gonna have to learn to get used to it,' and he was absolutely right."
That pain, in his view, was rivaled only by the pain of splitting up with his first wife, Kaynette, whom he was still married to when he met Lambert in 2005.
Jason Merritt/Getty Images
"I was married, that was..." he grimaced at the memory, while 60 Minutes showed him and Lambert performing on a country special and, quite possibly, falling for each other right in front of the cameras.
"That was easily the toughest thing that I've ever been through," Shelton said. "I put that, my divorce, up there with my brother's death, and that was a tough, tough call to make."
Fast-forward a spell: He and Lambert have now been married for 3 1/2 years—and have been the subject of trouble-in-paradise rumors for nearly as long.
Asked in the online-only portion of the 60 Minutes piece why he and the missus don't just sit down for a big tell-all interview together, Shelton said, "We try so hard to keep people's focus on what we do and not our marriage.
"It's almost impossible to do that, and why open that door any further than it already is open by sitting down and doing interviews together rand giving every freakin' magazine out there a two-sentence quote that's turned into alien babies... There's no reason for us to do that. We do interviews [separately], I love talking about her, I'll talk about her all day if you want to. But for her and I to sit here together, it's just going to turn into something about our marriage and it's all we got left that's private, is she and I and our home. And we just want to keep it that way."
Lambert said exactly the same thing, explaining to O'Donnell that being home together, alone, in Oklahoma is pretty much all the privacy that she and Shelton have left.
"We feel like we're very honest with who we are and our relationship," the 30-year-old "Heart Like Mine" singer said, not while sitting by her hubby's side. "We've kinda told the good, the bad, the ugly as our relationship has progressed from the beginning till now. And people dig anyway and they make up lies, so I feel like, we don't really hold back, because if you hold back they're going to dig anyway so might as well just tell it.
"The only private thing we have is our home and, if we don't protect that, then we have nothing. We have to have something that's just for us. At some point you just have to go 'all right, this is it, this is our line, you know.' We have our one little area of the world that no one can come into."