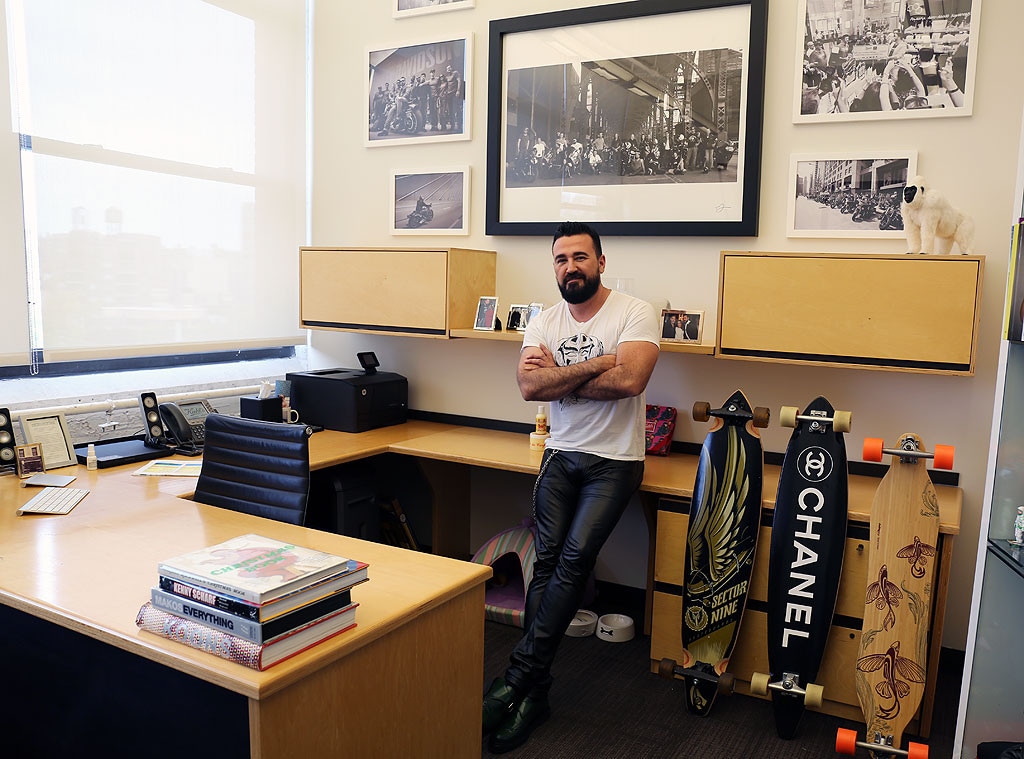 Jennifer Cooper, E!
When it comes to loving the skin you're in, it's all about taking care of that skin. And no skincare brand understands that concept better than Kiehl's Since 1851.
We caught up with Kiehl's USA President Chris Salgardo on everything from what skincare indulgence men should be trying right now (Spoiler alert: Facials!) and why he keeps a motorcycle parked inside his office. Keep reading to hear Salgardo's best advice, and what a typical day in the office is like for the skincare guru!
What was your very first job?
Chanel
How did you get started in your career?
I started my career as a makeup artist for Chanel in Los Angeles. I then went on to work as the west coast sales manager for Bobbi Brown Cosmetics, before joining Kiehl's to head sales and education development during the brand's major expansion in early 2000. In June of 2004, I was appointed to general manger of Shu Uemura. Then, in 2006, I returned to Kiehl's as the president, while managing Shu Uemura and Giorgio Armani.
Who are some of your career heroes?
Jean-Paul Agon, Bobbi Brown, Aaron Morse
What's a typical workday like for you?
To be honest, none of my days are the same. Some days are in New York City at our office with retailers, charity partners or entertaining beauty editors. Others, I'm traveling all over the country visiting our stores. Some days, I'm on set taping television segments, at our day spa discussing new techniques or in Los Angeles at celebrity events.
One consistency is that every day is incredibly dynamic and productive. I'm fortunate to have close relationships with my colleagues. There is fluidity in our conversations, whether we're talking about long-term strategy or the more pressing, imminent items.
Describe your office décor. What was your inspiration? Did you decorate it yourself?
My office is very personal. Like a Kiehl's store, it's a collection of memories and experiences including the motorcycle I had my first accident on, a few skateboards, photographs from LifeRide, awards from charitable partners and more.
List five things on your desk right now:
1. Kiehl's mission statement
2. New secret Kiehl's formulas
3. My notebook
4. Current magazines
5. Event photographs

What do you typically wear to work?
Vintage Kiehl's T-shirt, Prps distressed jeans, Chrome Hearts chain wallet, Chrome Hearts button down and Wesco motorcycle boots
What are your favorite stores to shop for work clothes?
Chrome Hearts, Maxfield's, American Rags, Givenchy, Tom Ford
What's the best piece of career advice you've ever received?
Don't sweat the small stuff. Don't worry about the things you cannot control. Work on something you love, because if you love it, it will never be work.
Biggest grooming indulgence?
Without a doubt, facials! I think men should get a facial once a month. My go-to facial is Kiehl's Men's Refueling Facial. Knowing that men, in general, have larger pores and deeper wrinkles, this facial actually includes two passes of microdermabrasion or an exfoliating peel. I think it's the best to combat surface wrinkles and the loss of firmness.
Finish the sentence:
Today for lunch I had… steamed chicken, field greens, Fiji water.
The first website I log onto every day is… CNN.com.
The beauty product you can always find in my purse/bag is… Kiehl's Lip Balm #1.
My must-have work gadget is… iPhone.
My usual Starbucks order is… iced venti whole milk vanilla latte.
If I need a quick break during work, I usually… walk to Starbucks.
If I wasn't doing this job, I would be… a fashion photographer.
The best part of my job is… giving back. It is so rewarding knowing that as a brand, and as an individual, we are able to make a difference and help those less fortunate than us.