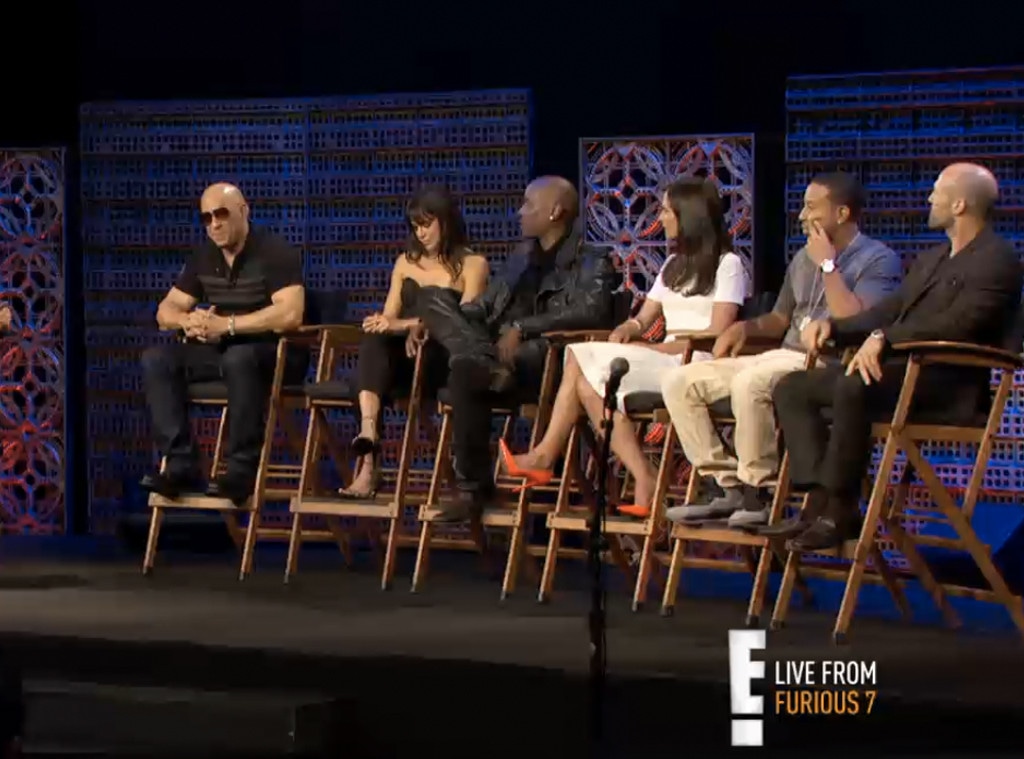 E!
After 13 years, the Fast & Furious cast members consider themselves family and that family reunited for an exciting but emotional and bittersweet event on Saturday.
Vin Diesel, Michelle Rodriguez and other stars of the hit action movie series gathered at Universal Studios in Hollywood to debut the trailer for Furious 7, the seventh and last film in the franchise that Paul Walker had filmed before his shocking death less than one year ago.
At the event, Vin called the late star "a special angel."
The trailer premiere was hosted by Terrence Jenkins and Maria Menounos and aired on E! and on E! Online's livestream. Other stars who appeared onstage were Tyrese, who plays Roman Pearce, and Ludacris, who stars as Tej Parker, and Jordana Brewster, who plays Dom's sister Mia. Dom is the leader of their street racing crew, which carries out heists. Jason Statham, who plays the new villain, was at the event as well. Cast member Dwayne Johnson, who reprises his role as Hobbs, was not present.
Walker died in a car accident on Nov. 30, 2013 at age 40. He was survived by a daughter. Before his death, he also shot the movie Brick Mansions, which was released this past April.
Walker died in a car accident north of Los Angeles on Nov. 30, 2013 at age 40. He was survived by a daughter. Before his death, he also shot the movie Brick Mansions, which was released this past April.
Furious 7 is set for release on April 4, 2015. Check out five highlights from the Furious 7 trailer premiere.
1. On dealing with the loss of Paul Walker—together...
After Walker died, scores of fans as well as Vin and Tyrese flocked to the crash site to mourn the actor, laying candles and flowers. The former star thanked supporters on a loudspeaker, calling Walker his "brother."
"Even when that moment happened, of us losing our family and Paul, we all have significant others...or not, we all have our own immediate circle of family and friends and loved ones, but they didn't know Paul the way we knew Paul," said Tyrese.
"So if it wasn't for us meeting up, talking, having those conversations...I mean, me and Michelle [were] hanging for like four or five days straight until I [saw] her smile again," he added. "I was at Vin's house, I did everything I could possibly do, you know, Jordana was out of town a lot [filming Dallas]...we did whatever we had to do as a family to like, rebuild each other and have the conversation that only we could have, to help us to get through that very rough patch."
2. On bonding with the Fast & Furious family...
In the trailer of Furious 7, Dom states, "I don't have friends; I got family."
"When you watch our movie, all the differences of skin tone and language go out the window," Vin said at the panel. "All you see is family and that started with the brotherhood of Dom and Brian and it has extended to Fast & Furious 7, where, when you think of family, you think of Fast & Furious."
 "And it's touching because, you know, again, we lost such a special person, a special angel," he said. "That was the beginning of that and allowed for us to have this multicultural brotherhood and family. 
 Tyrese said the actors' children known each other by name.
 3. The stars' reactions to the trailer and the movie...
 "Cargasm," Rodriguez said.
"To be honest, I thought it was the best trailer I'd ever seen," Vin said.
The cast members appeared very moved after watching a video of it at the event, while fans who watched it online have expressed their own sadness at seeing Walker in action again. Rodriquez and Brewster hugged on stage, later joined by Tyrese.
 4. On (sexy and British) Jason Statham playing the villain...
 Statham plays Ian Shaw, brother of villain Owen Shaw, who dies in Fast & Furious 6. Ian makes his debut in the form of a cameo in that film.
"He's incredible," Vin said. "The amount of work that we did for our third act fight sequence, I was just so happy that he was just so gung ho about it and so dedicated."
"We both walked away with a lot of injuries," he added. "Nothing permanent."
Tyrese, who starred with Statham in the 2008 movie Death Race, joked that Jason is a "bully."
"When I heard that he's coming to the family, it was definitely an extension of the family, so we welcome him to the family," he said. "Jason is here, you're gonna feel his energy and presence in the franchise. He came here to contribute his energy."
Statham also has something in common with many of the franchise's stars; He's a sex symbol.
"I think Jason poured his accent a little heavy today," Tyrese joked. "I see what you're doing, with all the ladies out here."
5. Fans made a BIG impact...
Vin said he thinks "no franchise or saga in the world has had more fan input" than the Fast & Furious series does.
"They were petitioning for Letty [Rodriguez's character] to come back," he said. "That was real."
The franchise does has a very loyal fan base, made up of people of all ages. A little boy was ecstatic to meet Vin on the red carpet before the event. Check out a video of the sweet moment below.
—Additional reporting by Nicole Pirshafiey