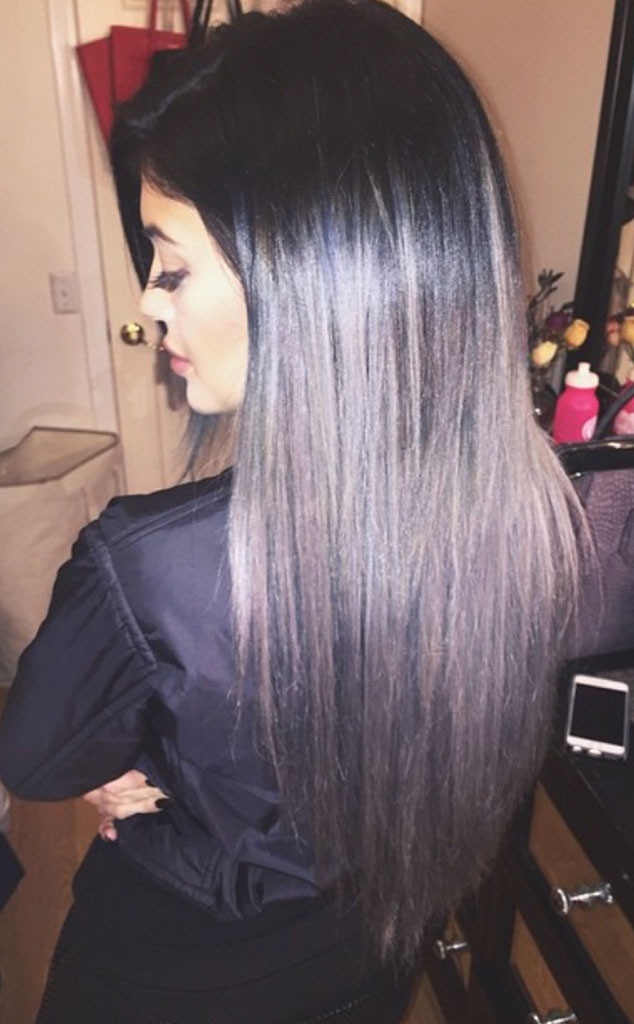 Instagram
Kylie Jenner has taken her hair to a ghostly gray hue—just in time for Halloween!
The youngest member of the Kardashian-Jenner clan stepped out on Thursday with long, straight extensions—showcasing a new black-and-gray ombré look. She later took to Instagram to debut the new 'do to her over 13 million followers, captioning the photo with a simple, "Happy Halloween."  The gray dip-dyed look definitely fits the 17-year-old style maven's grunge aesthetic—Kylie often steps out in all black, preferring to experiment with clothing structure, silhouettes and textures.
If you're surprised about the new hair change, you shouldn't be: The reality star is a frequent hair length flip-flopper—she has gone from long extensions to short, shoulder-length hair multiple times in the past few months. And Kylie is soon taking her hair play to a whole 'nother level—on Oct. 6, she announced a new partnership with Bellami Hair. The line, called Kylie Hair Kouture, will feature clip-in extensions, and we can only imagine the chic ombré pieces to come.
Gray locks aside, Kylie has lately made headlines for another oft-Instagrammed feature—her signature pout.
With lip injection rumors running rampant on social media, the star finally took to Twitter to announce she was "bored" with all the injection hype. (Really guys, we can see the lip liner from here—obviously not the result of a needle.)
Older sis Kim Kardashian confirmed in a recent interview that Kylie only uses her well-honed makeup skills to achieve full, lush lips.
What do you think of Kylie's new black-and-gray hair?