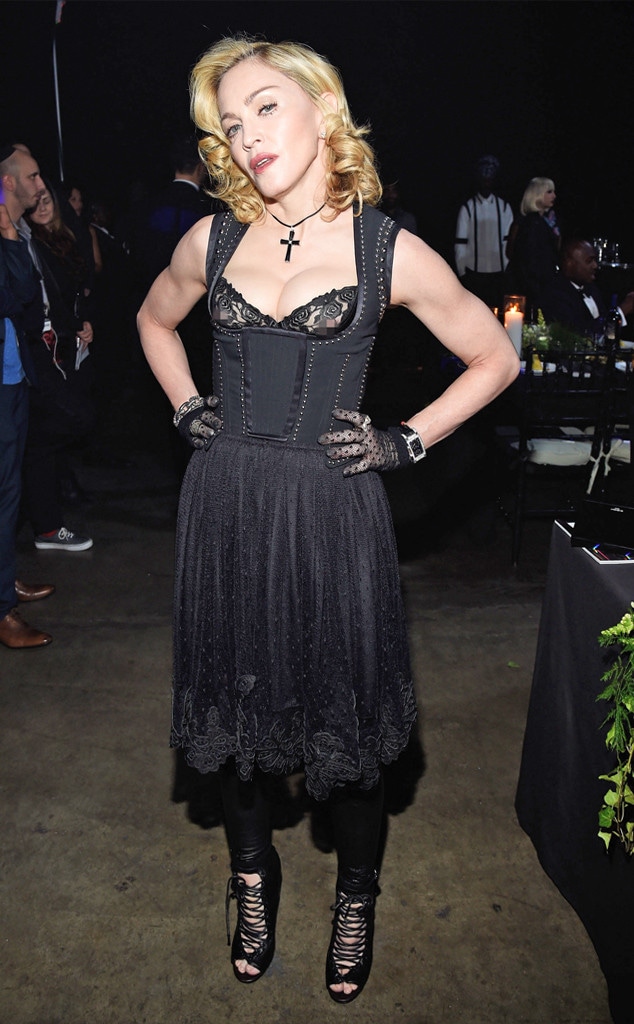 Kevin Mazur/Child2014/WireImage
Madonna went full Throwback Thursday with a NSFW look and was joined by fellow music royalty at the 2014 Black Ball, hosted by the Keep a Child Alive charity.
The 56-year-old Queen of Pop wore a black, semi-sheer lace corset dress that showed some serious cleavage...and left little to the imagination, as well as a crucifix pendant, channeling a mashup of looks she sported in her '80s music videos "Like a Virgin" and "Like a Prayer." She paired the look with thigh-high Givenchy boots.
The label's artistic director, Riccardo Tisci, was honored at the event, held at the Hammerstein Ballroom in New York City on Thursday, with the KCA Humanitarian Award for "inspiring new and compassionate ways of thinking through his bold and unapologetic voice in challenging discrimination, while breaking cultural barriers in the fashion industry." He and Givenchy are longtime supporters of Keep a Child Alive.
They were joined by hip-hop star Kanye West, 37, Queen of Soul Aretha Franklin, 72, Sean "Diddy" Combs, 44, and Alicia Keys. The latter artists performed at the event, as did rapper Nas, 41. Keys is the co-founder of Keep a Child Alive, which helps children with HIV and AIDS.
Tisci posted on his Instagram page a photo of Madonna lying on the floor at the event, saying. "QUEEN M IN THE HOUSE," Tisci said on Instagram. "@madonna @givenchyofficial#love #foreveryoung #family #gang
Madonna shared the same pic.
"These Givenchy boots tho............#unapologeticbitch," she said.
Kevin Mazur/Child2014/WireImage
"G*D Bless this Girl!" Madonna said about Keys. "Beauitful and Generous!@aliciakeyes #blackball #livingforlove."
Kevin Mazur/Child2014/WireImage
Keys, 33, was accompanied husband Swizz Beatz. The 36-year-old hip-hop star posted a photo of his wife performing onstage.
Keys is pregnant with their second child and is due to give birth on Dec. 31. The two are parents to a son, Egypt Daoud Ibarr Dean, who turned 4 last week.
At the event, Keys got to hang out with Franklin.
Kevin Mazur/Child2014/WireImage
Kevin Mazur/Child2014/WireImage