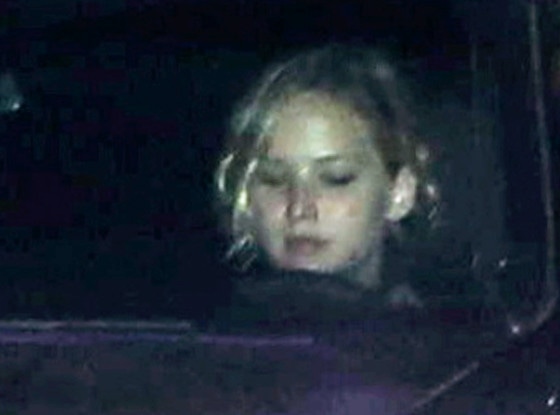 X17online.com
It looks like Jennifer Lawrence is doing a post-split drive-by to collect her things.
Just a few days after E! News broke the news that the 24-year-old Hunger Games star and the 37-year-old Coldplay singer broke up, J.Law was spotted at Martin's Malibu house last night.
The Oscar winner was photographed behind the wheel of a black Cadillac Thursday evening. Lawrence kept a low profile as she arrived to her ex's home. She reportedly spent about two hours inside the house before driving off into the night, presumably with some of her personal belongings from Martin's residence.
After J.Law's drive-by, Martin attended Kate Hudson's Halloween party last night where celebs like Lily Allen, Goldie Hawn, Katy Perry and Jessica Alba mixed and mingled.
Martin was snapped with a giant smile on his face as he spent time chatting with two lovely ladies, including Sara Foster, who was scantily clad in a leotard. The rocker chose not to wear a costume and instead sported khaki pants, a long sleeve shirt and a blue baseball cap.
Pascal Le Segretain/Getty Images, REX USA/Theo Kingma/Rex
Martin and Lawrence broke up a few weeks ago after nearly four months of dating. A source told E! News that the blond beauty's split from Gwyneth Paltrow's ex "wasn't dramatic" at all.
"Things just didn't work out," the insider dished. "There are no hard feelings between them."