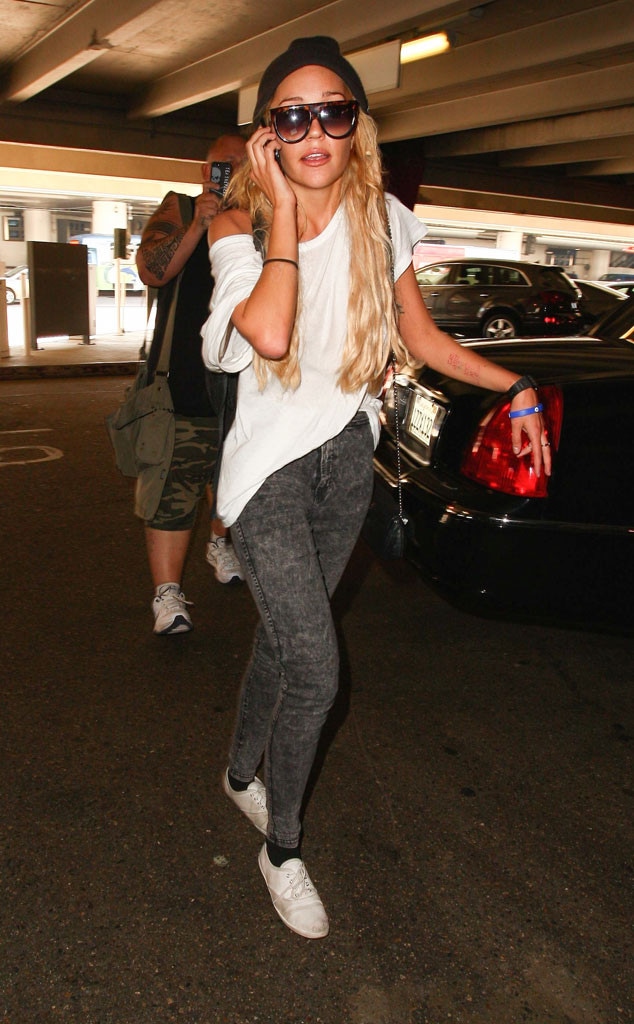 AKM-GSI
UPDATE: Beginning at 7:25 a.m. PT, Amanda Bynes issued a series of tweets from her verified account. In these, she wrote she was "going to court today with my lawyer to prove that I am more than capable of handling my personal life and finances and I am enraged..."
 
"I got released from the hospital that Sam Lufti and my parents arranged to send me to because my dad is humiliated by what he's done," she added. Amanda went on to make allegations of sexual abuse against her father (something she did earlier this month, then recanted).
"So sorry you've been fooled by Sam Lufti and my parents, but they are lying about stealing money from me and i cannot continue to allow them (cont) To abuse me any more !"
____
___

Amanda Bynes has reportedly been released from Las Encinas hospital, the Pasadena, Calif., facility where she's been on an involuntary psychiatric hold since Oct. 10.
Per TMZ, who obtained pictures of the 28-year-old star walking down Hollywood's Sunset Boulevard last night, a hearing officer Thursday "felt Amanda was stable enough so she could NOT be held involuntarily, so he ended the 30-day hold that had been granted last week and Amanda walked out the front door."
(E! News previously confirmed that on Monday, Amanda's involuntary psychiatric hold, was extended an additional 30 days.)
According to court documents previously obtained by E! News, this "status hearing" was required by law to happen within 12 hours of Amanda's release from Las Encinas into the care of her temporary conservator, mother Lynn Bynes. (Amanda's mom was granted temporary conservatorship of her daughter Monday.)
Amanda's presence was required at this status hearing in order to "address the continuation of the temporary conservatorship." A Feb. 24, 2015 court date was issued to revisit the status of Lynn's conservatorship on Amanda.
In their case to get temporary conservatorship over Amanda, her parents told the judge the Easy A star poses "a substantial risk to herself, to others and to property based on her recent behavior."
This behavior, per the docs, included Amanda's Sept. 28 DUI arrest as well as her "erratic behavior" while in New York, including "surveillance video was released to media outlets, which depicted the proposed conservatee attempting to shoplift and engage in bizarre dancing inside a New York clothing store on or about October 8, 2014."
The documents also cited reports that Amanda's behavior got her kicked out of JFK airport as well as "several statements on social media sites about a microchip she believes is inside her head." (Before Amanda entered into treatment Oct. 10,  she went on a Twitter rant accusing her father Rick Bynes of sexual abuse. She later recanted the allegations, claiming, "My dad never did any of those things. The microchip in my brain made me say those things but he's the one that ordered them to microchip me.")
Amanda's parents also stated she had been "expending large amounts of her savings,' and that "a conservatorship is necessary at this time to protect the proposed conservatee's person and estate."
(Originally published Oct. 31, 2014, at 5:38 a.m. PT)