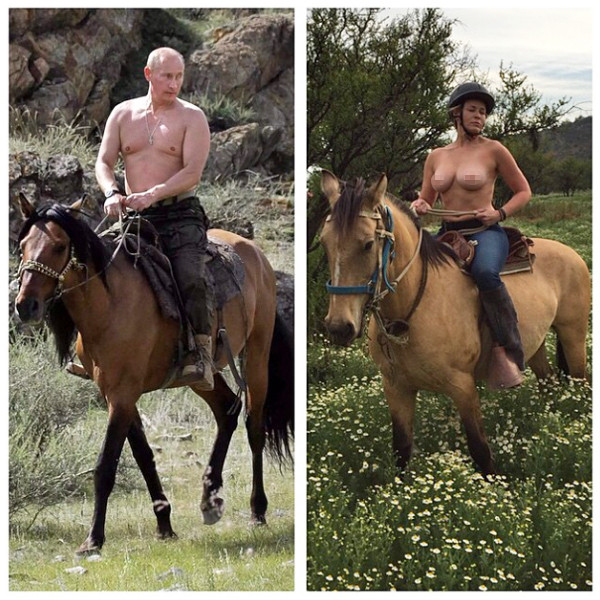 Instagram
UPDATE: Chelsea Handler said goodbye to Instagram after the censorship fiasco, and welcomed her fans to view her breasts (and more, presumably!) on Twitter.
"You can now find my dogs and my breasts on Twitter only where my followers have the right to choose what they say," she wrote. "Bye bye instablock."
________
Oh, you thought we were kidding?
Nope, that's really her on that horse, and those really are her tatas roaming freely. The 39-year-old gave anyone and everyone who was scrolling through their Instagram feed tonight a titilating (if you will) surprise after posting a photo of herself completely topless while riding on a horse.
The split photo was put next to Vladimir Putin's famous shot of him baring his chest on a horse, clearly mocking the Russian president. "Anything a man can do, a woman has the right to do better #kremlin," Handler captioned the picture, which was then taken down by the Instagram police.
That didn't stop her, though.
Chelsea then re-posted the same photo and wrote, "Taking this down is sexist. I have every right to prove I have a better body than Putin."
Unfortunately, her tactics didn't work, and Instagram took the photo down again.
Chelsea posted the notice they sent her, that read, "We removed your post because it doesn't follow our Community Guidelines. Please read our Community Guidelines to learn what kind of posts are allowed and how you can keep Instagram safe."
She captioned the screenshot, "If a man posts a photo of his nipples, it's ok, but not a woman? Are we in 1825?"
However, Handler decided to take yet another crack at nipplegate, reposting the picture and writing, "If instagram takes this down again, you're saying Vladimir Putin Has more 1st amendment rights than me. Talk to your bosses." (Third time's a charm?)
Hey Chelsea, if you want to start a revolt, we know at least one other person who could join the fight.
(Originally published on Oct. 30, 2014, 7:26 p.m.)