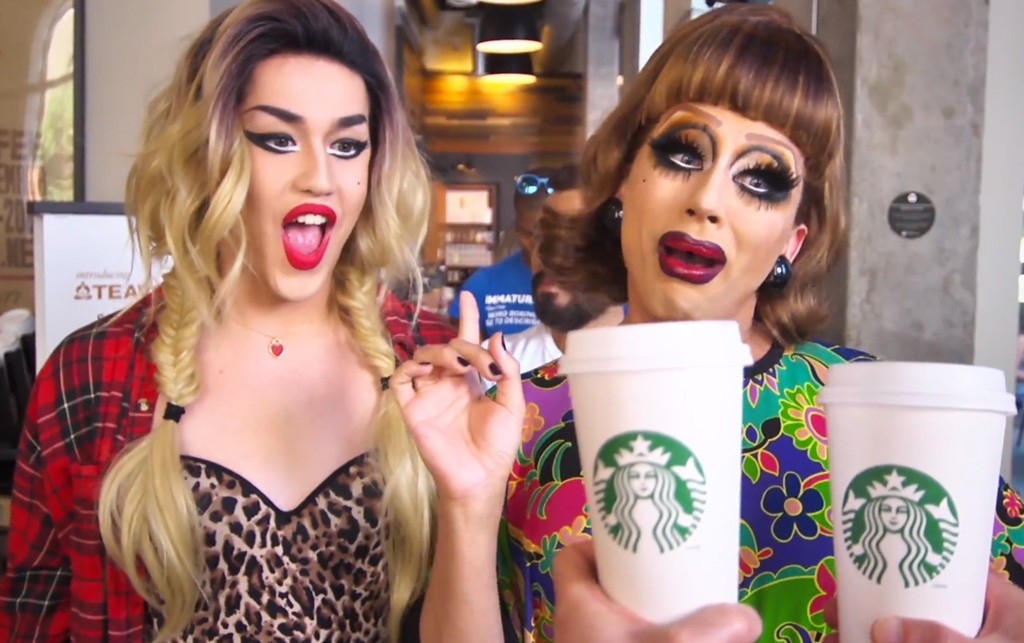 Starbucks
Starbucks' latest commercial features two of our absolute favorite drag queens from RuPaul's Drag Race!
In the coffee chains' first LGBT ad, Drag Race season six winner Bianca Del Rio and season six runner-up Adore Delano star as "coffee frenemies."
The video clip starts out with Adore talking to someone on the phone about her busy work schedule. "So that's a 7 p.m. interview, an 8 p.m. cruise and a 9 p.m. show in front of five-thousand fans. That's a stressful schedule, girl," Adore says. "I need a coffee!"
That's when Adore spots a nearby Starbucks store. She heads inside and asks several customers waiting in line if she can cut. "Excuse me, I'm in a really big hurry. Can I cut in front of you please?" she asks while moving up the line. Then, Adore is stopped by Bianca, who starts spewing her hilarious signature sass.
"Look, honey, I've seen that you've cut the line," Bianca rants. "I am in line waiting for my skinny latte like everyone else, and I feel you should do exactly the same. Did anybody ever tell you that excessive amount of makeup during the day makes you look really horrible? Listen, honey, your little cutesy flirty thing is not going to work with me."
A barista then saves the queens from any more shade throwing by offering both of them a coffee. "Saving friendships since 1971," flashes a message on the screen. Too cute!
Watch the new Starbucks commercial for yourself.