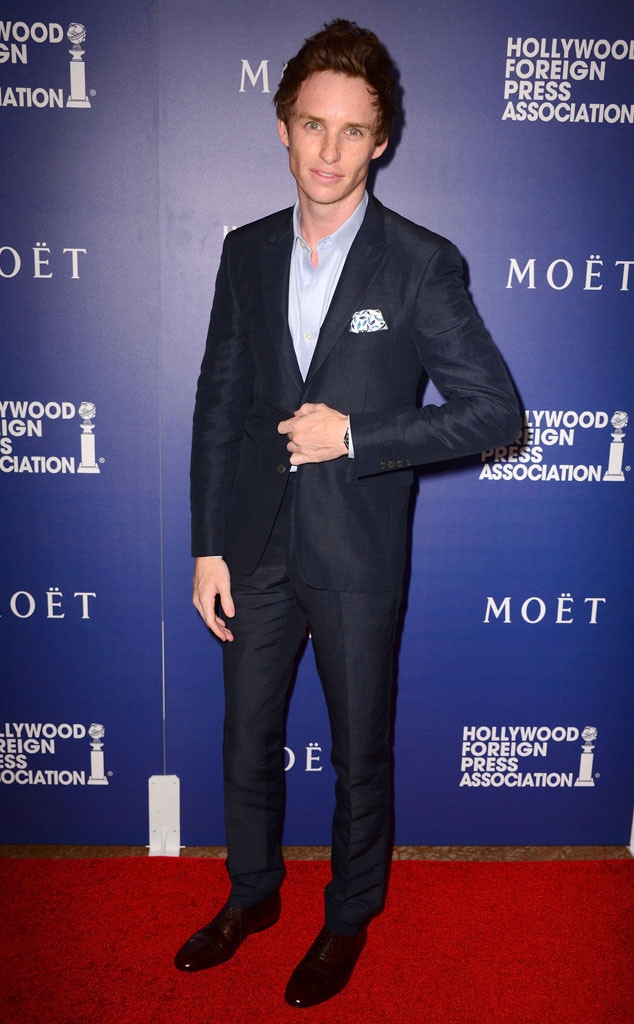 Frazer Harrison/Getty Images
Before Eddie Redmayne shot his starring role as Stephen Hawking in The Theory of Everything, he made Jupiter Ascending.
He trained hard to get his body ripped (hello, six-pack!) for his work as bad boy Balem opposite Channing Tatum and Mila Kunis in the sci-fi action flick.
"It was a fleeting ephemeral moment," Redmayne joked with me last night at Theory's L.A. premiere. "It was there for a second."
He says his fiancée, Hannah Bagshawe, didn't mind his muscled bod, but he said, "She didn't like that my character had to have long nails. I cut them the day we finished shooting."
Liam Daniel/Focus Features
But before he knew it, he was growing them again. "About two days later when I was reading about Stephen, I learned when he was 21 he decided to grow his nails as an act of defiance," Redmayne said. "I was like, 'Hannah, I'm going to be growing my nails again.' She was like, 'Really?' And then there's only one shot in the film where you see the nails…She was like, 'Really? Lots of long nails just for that?'"
Redmayne's nails were the least of his worries when it came to portraying the world famous physicist, who was diagnosed with ALS in his early 20s. 
"I definitely felt the pressure, I'm not going to lie," Redmayne said. "When you're 'applying' for the job, you tell people you could do it and you sound really confident but then you get the job and you realize you don't have a clue."
Besides seeking advice and direction from people with ALS, he was also given a crash course in physics by one of Hawking's former students, now a professor at Imperial College London.
"He was talking to me about string theory, [but] he sort of dumbed it down for me and I started to understand it," Redmayne said. "I've educated myself a bit."
Courtesy of Dave Allocca/Startraksphoto.com