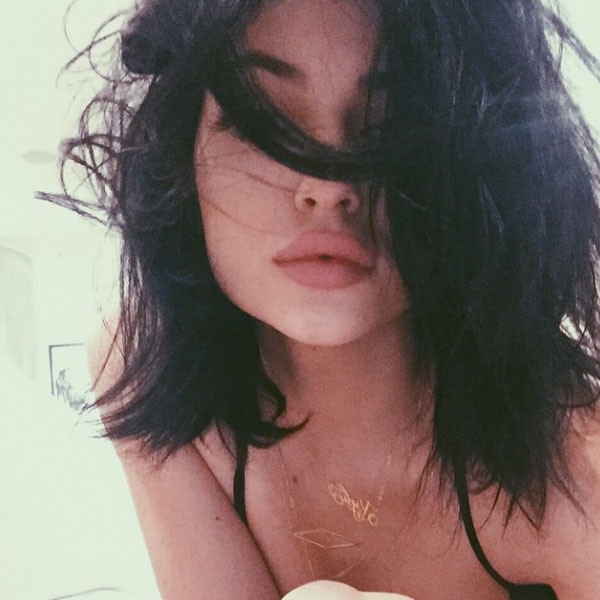 Instagram
Look, the girl loves her lip liner. Ain't nothin' wrong with that!
Much has been written about Kylie Jenner's plumper pout, and on Monday, the Keeping Up With the Kardashians star once again denied reports that she's received lip injections. "How long are we gonna talk about this lip thing lmao," the E! reality star, 17, asked her Twitter followers. "Let's get a our lives together guys and talk about some important s--t. Just talk about something new at least. I'm bored."
Jenner regularly makes kissy faces on Instagram, and perhaps in an effort to silence her haters, she puckered up for a picture with big sister Khloé Kardashian, 30. "I love you," she wrote in the caption.
The speculation about her smile has been irritating Jenner since April. "These plastic surgery rumors hurt my feelings to be honest and are kinda insulting," she tweeted. "Just in case anyone forgot.. I'm 16."
Of course, Jenner isn't the only person in her family to face such scrutiny.
In November 2009, Kim Kardashian laughed off Star magazine's claim that she got surgery to make her nose and lips smaller. "Why would someone want smaller lips?! LOL" she asked on her official website.
She said that Star ran a "before" photo of her when she was "about 15 lbs heavier than the second photo! Your face always looks different when you lose weight, plus with the contouring on my nose it gives the illusion of a thinner nose. I actually think my nose looks smaller in the first pic than it does in the second. It's ridiculous...it's all about the makeup and the angle from which the photo was taken!"
Kim added that that it's "no secret" that she often contours her nose to make a "bump go away."
"I guess it's a compliment to my makeup artist that he does such a good job contouring my nose that it appears smaller," she added. "But hey, Star mag thinks it looks smaller...yay! My dream come true, hahaha!"
Be sure to tune in for Kourtney & Khloé Take the Hamptons, premiering Nov. 2, only on E!