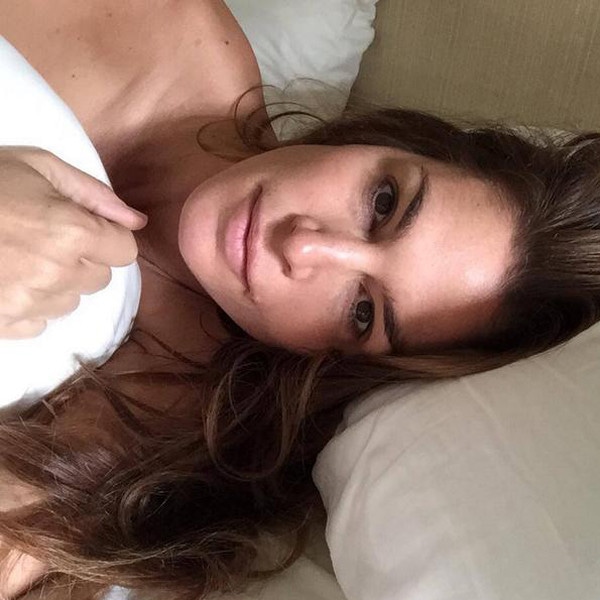 Twitter
Well good morning, Cindy Crawford!
The supermodel posted a fresh-faced selfie to Twitter earlier today, becoming the latest celebrity to participate in UNICEF's #wakeupcall campaign that supports Syrian children in need. Crawford follows in the footsteps of Rosie Huntington-Whiteley, who posted a sweet barefaced photo on Oct. 21, Liam Neeson, Elle Macpherson, Tom Hiddleston and Naomi Campbell, among others.
The 48-year-old looks relaxed, pretty and—let's face it—ageless in the photo, which shows her cuddled up under white blankets (and not much else!) in bed. And although you might need to do a double-take, the supermodel's signature mole is in place.
"#WAKEUPCALL Support #ChildrenofSyria @UNICEFUSA: https://bit.ly/1v5lGqT  I nominate @CTurlington @SoniaKashuk @MmeGrey," Crawford wrote, nominating her model galpal Christy Turlington, makeup magnate Sonia Kashuk and Violet Grey founder Cassandra Grey to contribute to the cause.  
Crawford recently opened up to The Violet Files about the skincare regime that has helped her remain largely wrinkle-free in the latter half of her forties: "I use SPF day cream every day, cleanser every day and night. I definitely use the night cream, eye cream and the Crème de Serum from my line," she said. "What I think is true is that [results are] cumulative. When a 35-year-old starts taking care of her skin, she won't look different. It's when you're my age that you start seeing the payoff."
And it's definitely paid off—Crawford's youthful glow is apparent even next to her 13-year-old daughter Kaia Gerber. The look-alike pair made headlines recently in a side-by-side photo that the model posted to Instagram on Oct. 22. It turns out that a mother-daughter game of monopoly had become, well, serious: "@kaiajordan just destroyed me in #monopoly. #oldschoolfun," Crawford wrote of the photo, in which she smiles alongside a property card-toting Kaia.
Seems like the hot model mom is also a very good sport!