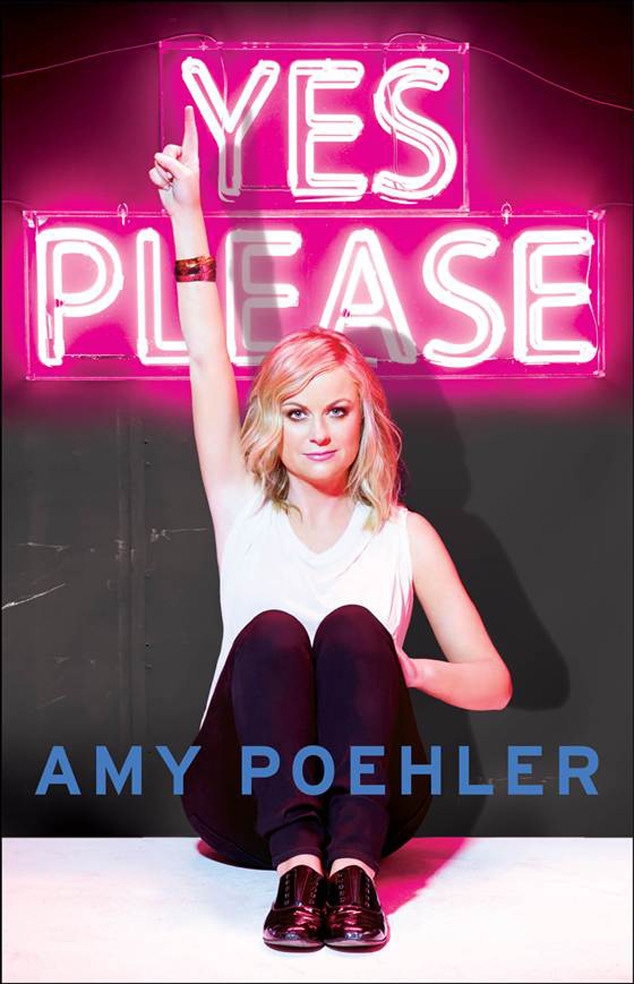 Dey Street Books
It's no secret that Amy Poehler is hilarious, amazing and one of the absolute funniest actresses around. But the Parks and Recreation star is really taking things to a new level in her book, Yes Please.
In her new book, the 43-year-old actress covers everything from her history of drug use to her divorce, her body and her boyfriend Nick Kroll. Here are eight of the best quotes from Yes Please so far (the book comes out Oct. 28).
On her favorite body part: "I don't consider myself beautiful or famous, but my vagina certainly is. Everyone knows this. I have the Angelina Jolie of vaginas."
On the rest of her anatomy: "I wish I were taller or had leaner hands and a less crazy smile...I don't like my legs, especially. I used to have a terrific flat stomach but now it's kind of blown out after two giant babies used it as a short-term apartment...My nose is great. My tits are better than ever. I like my giant eyes, but they can get crazy. My ass is pretty sweet. My hair is too thin for my liking. I am on the fast track to wrinkle city. Bored yet? Because I can't stop."
Frazer Harrison/Getty Images
On cocaine: "I tried cocaine, which I instantly loved but eventually hated. Cocaine is terrific if you want to hang out with people you don't know very well and play Ping-Pong all night. It's bad for almost everything else...The day after cocaine is rough."
On weed: "I can't perform, drive or write stoned, and therefore I smoke pot a lot less than I used to."
On her divorce from ex-hubby Will Arnett: "Imagine spreading everything you care about on a blanket and then tossing the whole thing up in the air. The process of divorce is about loading that blanket, throwing it up, watching it all spin, and worrying what stuff will break when it lands...When you are a person going through a divorce you feel incredibly alone, yet you are constantly reminded by society of how frequently divorce happens and how common it has become. You aren't allowed to feel special, but no one knows the specific ways you are in pain."
On boyfriend Nick Kroll: "I have a boyfriend who knows how to settle me. He puts his hand on my chest and tells me boring stories...On one of our first nights together I woke up apologizing for my snoring and he pulled out two earplugs he had worn to bed so he could hear what I was saying."
On self-acceptance and plastic surgery: "You can spend your life trying to be [perfect], and you can tweak and nip and tuck, and then be afraid to move your face."
On her 2011 Emmys gag where she and her fellow female nominees did an on-stage skit: "[Presenters] Rob Lowe and Sofía Vergara read my name and I just got out of my seat and pretended I had won. Standing up there, I could feel the audience's delight and confusion, followed by pure joy when Melissa [McCarthy] and the other women followed suit...We all came up onstage and held hands like were in the final moments of the Miss America pageant. I felt like I might die from happiness. When Melissa won, we all genuinely screamed with joy. Standing onstage being funny with those ladies was so much better than winning."