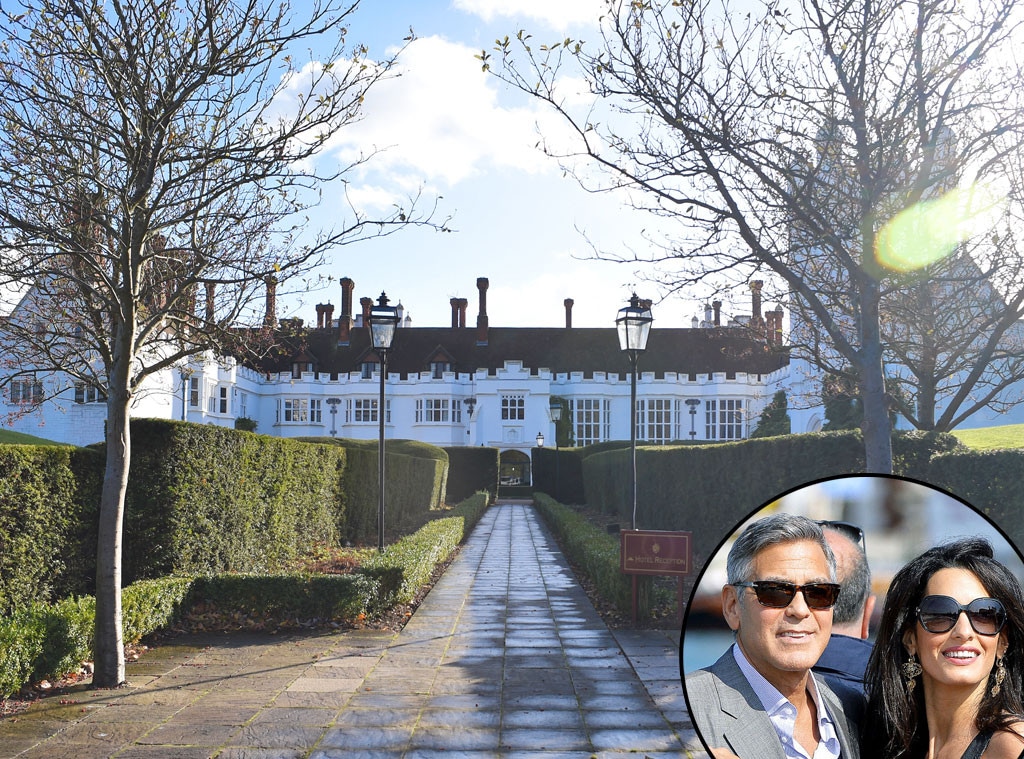 AKM-GSI
George Clooney and wife Amal Clooney aren't done celebrating just yet.
Amal's parents are throwing the newlyweds a dinner party Saturday night in Buckinghamshire, in southeast England, an event that would seem to be the long-expected U.K. leg of the couple's wedding plans that kicked off with them saying their I-dos in Venice, Italy, nearly a month ago.
And while the gathering doesn't fall exactly on the couple's one-month anniversary, but rather two days beforehand, why not make yet another weekend out of it?! 
Per a copy of the invitation obtained by E! News, the party being hosted by Ramzi and Baria Alamuddin is at the Danefield House Hotel and Spa in Marlow-on-Thames and a marquee heralding the party has been set up outside. The expansive 17th-century estate turned Michelin-starred hotel sits on 65 acres at the base of the Chiltern Hills, overlooking the Thames river.
Guests were requested to RSVP by Oct. 10 for the 8 p.m. affair. If the Clooney-Alamuddin party is going to be taking advantage of the regular menu offered by the hotel's main restaurant, choices for the main course include duck breast, roasted rib of beef, breast of corn-fed chicken and filets of lamb.
Meanwhile, this means that George and Amal, if they're not already, will be together again after respective trips to New York and Greece for work. 
George got busy promoting his latest film, Tomorrowland, at New York Comic-Con while Amal—no big deal—was called on to lend her legal expertise to the Greek government in its ongoing quest to get Britain to return the Elgin Marbles.
"It is not lost on me that I'm spending my honeymoon at Comic-Con," Mr. Clooney cracked to the crowd, though he and Mrs. Clooney did at least squeeze in a trip to the Seychelles (scene of one of their first romantic getaways as a couple) beforehand.