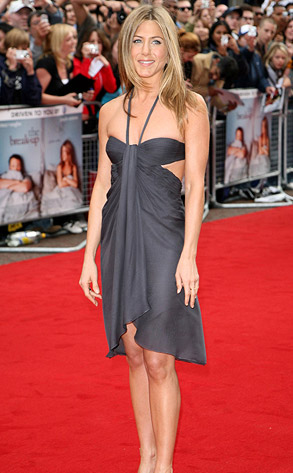 Tim Whitby/WireImage.com
Jennifer Aniston is one busy gal. 
I can exclusively report that Aniston has been tapped to receive the Vanguard Award at this year's Los Angeles GLAAD Media Awards on Apr. 14. 
The award honors a member of the entertainment world who has been significant in promoting gay rights. Past recipients include Cher, Eric McCormack, Antonio Banderas, Liza Minnelli and Charlize Theron. 
"She never expected this," Aniston's rep told me. "But she's very honored and very happy about it." 
Aniston is also close to putting the finishing touches on a couple of upcoming film projects. While her rep was tight-lipped on details, he told me that she will go behind the camera for one. He said Aniston is likely to announce her plans to direct her first feature film.
But she's acting, too. Aniston will most likely start shooting a new movie—in which she'll costar—this summer, her rep said.
Lisa O?Connor/ZUMApress.com
In honor of the GLAAD awards, I thought it would be fun to give you a recap of some of
my
favorite gay moments in Aniston's career: 
In 1998, Aniston costarred in the movie The Object of My Affection as a straight woman who attempts to raise her child with her gay male roommate, played by Paul Rudd.
Aniston and Winona Ryder enjoyed a girl-on-girl kiss in an episode during the seventh season of Friends, in which Ryder played a former sorority sister who had a longtime crush on Rachel.
Not only did Aniston appear in Melissa Etheridge's video for the single, "I Want to Be in Love," the out lesbian rocker performed at Aniston's wedding to Brad Pitt.
She was the first guest on Ellen DeGeneres'  talk show.
Most recently, she had a little kiss (nowhere near the wild makeout that some reports claimed would happen) with Courteney Cox on Dirt, in which Aniston played a rival editor to Cox's Lucy Spiller.
Don't worry if you're not at the awards. For the third consecutive year, the Logo network plans to broadcast the Los Angeles and New York ceremonies.
—Additional reporting by by Matt Donnelly