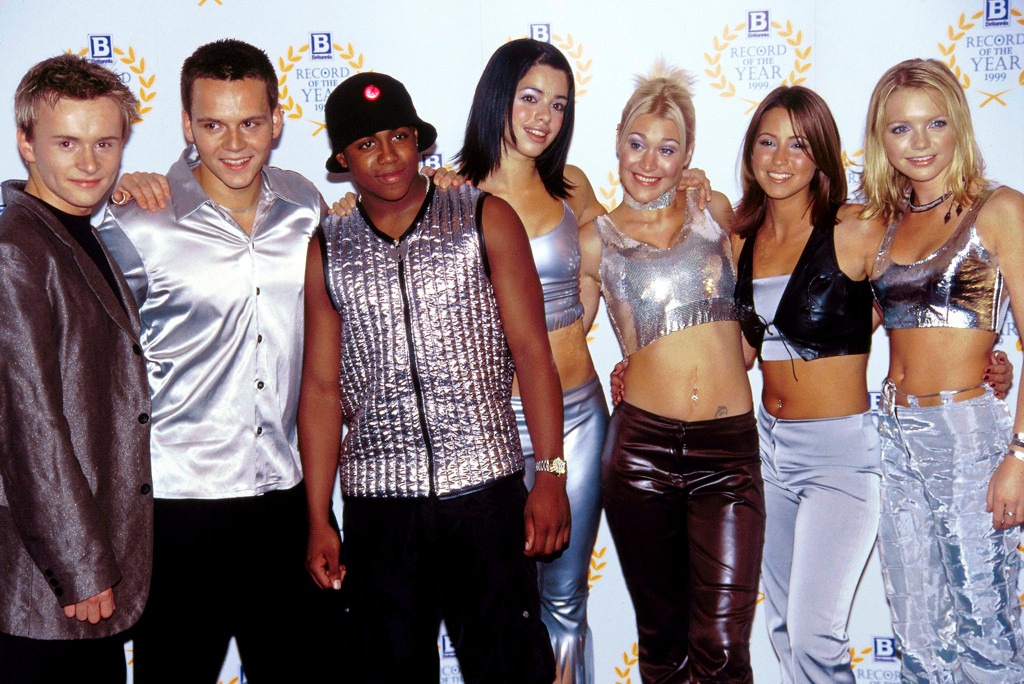 Hayley Madden/Redferns
They're finally going to "Bring It All Back"!
All seven former members of British pop group S Club 7 will reunite for the first time in more than 10 years—and for a great cause! Singers Rachel Stevens, Tina Barrett, Jo O'Meara, Hannah Spearritt, Bradley McIntosh, Jon Lee and Paul Cattermole will team up to perform a medley of their greatest hits on the 2014 BBC Children in Need telethon to raise funds for the channel's charity.
The group has already reunited on social media; on Wednesday, official Twitter and Instagram pages for S Club 7 were launched and the singers, peppy as ever, released a special audio greeting.
Also, several members of the group, which also joined Facebook earlier this month, posted Children in Need promo pics.
Children in Need helps disabled children and other kids in need, including victims of bullying. The organization's mascot is Pudsey Bear, who sports a colorful bandage over his eye. The popular telethon, which is televised annually, takes place this year on Nov. 14, according to BBC News.
S Club 7 had in 2000 recorded the charity's official single, "Never Had a Dream Come True," and also released a second one, "Have You Ever," for the group the following year. Both topped the U.K. singles chart.
"We're massive fans of BBC Children in Need and it was great to be able to support the charity all those years ago," the group said in a statement posted by the BBC. "We're really looking forward to bringing it all back for Pudsey, for BBC Children In Need and for all our fans who have been so great over the years. This is going to be the mega S Club party of all time!"
"Never Had a Dream Come True" was S Club 7's second single to reached No. 1 on the U.K. singles chart, following their 1999 debut song, "Bring It All Back." The former track was also S Club 7's most popular single in the United States and was the group's only song to enter the Billboard Hot 100 Chart, reaching No. 10. The group is also known for hits such as "S Club Party" and "Don't Stop Movin'."
S Club 7 was formed in 1998 and was the brainchild of Simon Fuller, who later created a television series starring the group. The show aired in their native United Kingdom as well as in dozens of other countries, including the United States, in 1999 and early 2000. Fuller also created American Idol and co-created So You Think You Can Dance. He is also known as the former manager of the Spice Girls.
In 2002, Cattermole left S Club 7, after which the group's name was changed to S Club. A year later, they announced they were splitting. 
Barrett, O'Meara and Stevens mainly concentrated on solo singing careers. Several years ago, McIntosh, O'Meara and Cattermole had a mini-reunion and performed some small local gigs together, under the name...S Club 3.
Several S Club 7 members also returned to the screen. In 2007, O'Meara appeared on the reality show Celebrity Big Brother, while Stevens competed a year later on Strictly Come Dancing, the original British version of Dancing With the Stars. Spearritt starred on the British sci-fi series Primeval from 2007 to 2011 and also appeared in the movies Agent Cody Banks 2: Destination London and Seed of Chucky.
Lee appeared on shows such as Law & Order and the popular British soap EastEnders but mainly concentrated on a stage career, appearing in West End productions of the musicals Les Misérables and Jersey Boys.