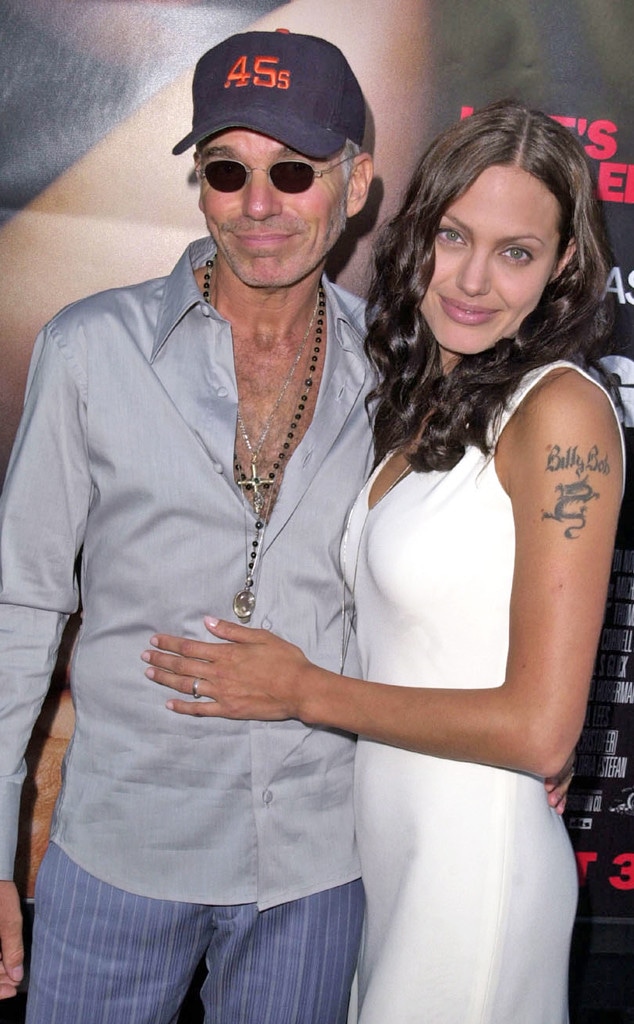 Steve Granitz/Wireimage
Angelina Jolie wearing Billy Bob Thornton's blood in a vial around her neck is one of the crazier things she's done for love, but according to the actress' ex-husband, it didn't seem all that crazy at the time.
Thornton spoke to students at Loyola Marymount University's School of Film & Television last week and was asked about the Academy Award winner's infamous jewelry. "[A] vial of blood is very simple. Angie came home one day with a kit she bought," he said. "You know those lockets you buy that are clear and you put a picture of your grannie in it or something like that and wear it around your neck? That's what it was. She bought two of those. We were apart a lot because she's off making Tomb Raider and I'm making Monster's Ball. We were on opposite ends—we see each other for two weeks and whatever."
"She thought it would be interesting and romantic if we took a little razorblade and sliced our fingers, smeared a little blood on these lockets and you wear it around your neck just like you wear your son or daughter's baby hair in one. Same thing. From that we were wearing quart jars of blood around our necks," he joked as the crowd laughed. He added, "And we were vampires and we lived in a dungeon."
The actors divorced in 2003, though Thornton and Jolie have stayed in touch since then.
Thornton, 59, also admitted that he wishes everyone were more truthful, telling the audience, "I think it's your duty to kind of tell people the truth about this stuff and the truth is not encouraged anymore."
In a 2008 Entertainment Weekly interview, Jolie shared her side of the story. "It was never a vial...It was like a flower press," she clarified. "It was like from a slight cut on your finger and you press your fingerprint in. It was kind of a sweet gesture. I thought it was kind of romantic!"
As far as Thornton goes, the Unbroken director told the magazine, "I still love him dearly and think the world of him and I'm proud to have been his wife for a time. I don't believe in regrets. It's a dangerous habit to get into—it makes you pause in your life if you start thinking back and questioning yourself."