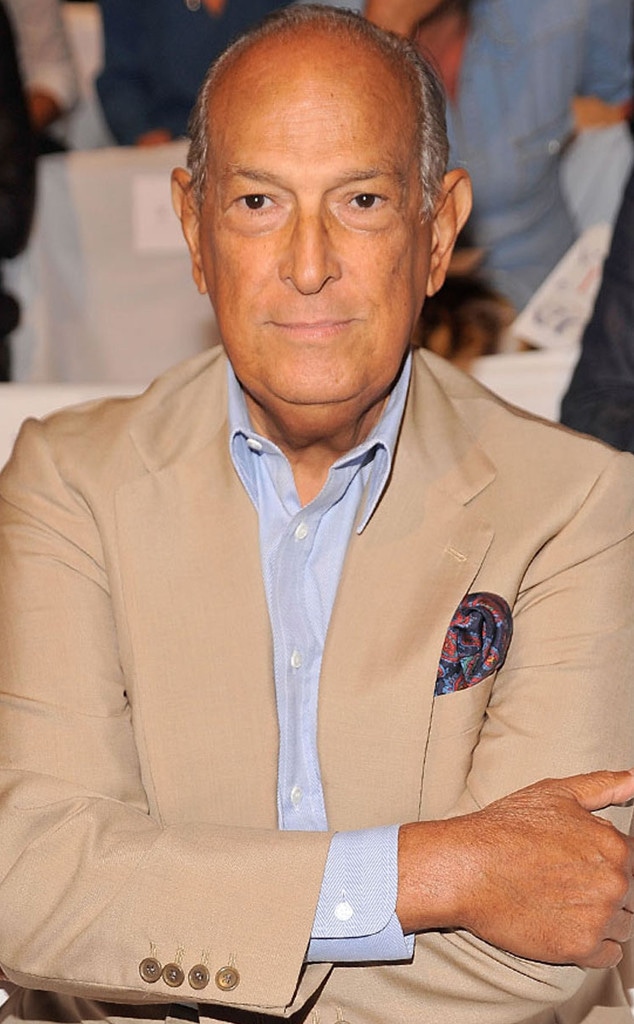 Gary Gershoff/WireImage
The world just became a little more drab.
Oscar de la Renta has died, according to ABC News. The fashion designer, who dressed celebrities ranging from Jackie Kennedy to Jennifer Garner over the years and whose brand became synonymous with timeless yet fierce elegance, was 82.
The Dominican-born couturier, who sent a Spring 2015 collection down the runway at New York Fashion Week in September, made his umpteenth major splash designing Amal Clooney's wedding gown this past summer. He appeared in the pages of Vogue with George Clooney's bride, taken during her fitting. Also earlier this month, Michelle Obama made headlines when she finally wore a de la Renta dress to an event, joining the first ladies club that also includes Kennedy, Nancy Reagan, Hillary Clinton and Laura Bush.
De la Renta was diagnosed with cancer in 2006, but he said in an interview last year with the International Business Times that he was "totally clean" of the disease and not at all interested in retirement.
"The only realities in life are that you are born, and that you die," he said. "We always think we are going to live forever. The dying aspect we will never accept. The one thing about having this kind of warning is how you appreciate every single day of life."
Asked about possibly getting out of the high-fashion game, de la Renta replied, "People ask me, 'At your age, when are you going to retire?' I think every single day there is a learning process. For a long time...I wondered what would happen to the brand when I am no longer here. But I will be here for a very, very long time."
The two-time winner of the American Fashion Critics' Award served as president of the Council of Fashion Designers of America from 1973 until 1976 and again from 1986 till 1988. He was honored with the CFDA's Founders Award last year.
"De la Renta" has been repeated so many times on the red carpet in response to the question "Who are you wearing?" that it's conceivable to have thought that "the Oscars" was a refereance to the designer rather than the Academy Awards. At the Emmys in August, Zooey Deschanel and Allison Williams were among the stars who stunned in de la Renta.
In May, Sarah Jessica Parker's black and white de la Renta confection, featuring the designer's signature scrawled on the train in red, was the standout look at the Met Gala.
Julian Mackler/BFAnyc/Sipa USA
"Did you see his name on the back?" Parker asked during a chat with Vanity Fair. "I said to Mr. De la Renta, please let me use scarlet embroidery thread, and splash your name across the back. It was my idea. He would never in a million years have done it, he's far too modest."
Known for his own always-dapper style, de la Renta told Vanity Fair in 2009, "I have to tell you that I've been dressing this way since I was a young man. I was 18 years old when I arrived in Spain, and at that time you could have a custom-made suit for eight dollars."
"Do you know why I almost always wear a tie?" he added. "I have this complex that if I walk into a place wearing a colorful shirt someone will stop me and say, 'I'm sorry, but the Latin band comes through the other door.'"
His fashion empire ultimately spanned the gamut from haute couture and red-carpet-ready evening wear to bridal gowns, ready-to-wear, fragrance and home furnishings.
De la Renta frankly let it be known that his clothes were designed for the woman who gave a damn about what she was wearing.
Larry Busacca/Getty Images
Asked what sort of woman he had in mind when he designed, he told VF, "Let me tell you, it was never the ladies who lunch. They never lunched! They always wanted to stay thin. You want to know who my customer is? All the women who can afford to buy my clothes! My customers are successful workingwomen. They might be spending less at the moment, but my approach is that fashion must always be optimistic, and that a woman will always be enticed by beautiful clothes."
De la Renta's first marriage, to French Vogue editor-in-chief Françoise de Langlade, ended when she passed away in 1983. He is survived by his second wife, Annette Engelhard, and son Moises. He also had step-children from both of his marriages.
Carlos Alvarez/Getty Images